Norwegian Joy Hull Art Revealed
NCL cruise ship Norwegian Joy will set sail to China next year with stunning hull design of a giant phoenix bird. The cruise company announced today that has commissioned the Chinese artist Tan Ping to design the hull artwork of the new Breakaway-Plus class vessel. Norwegian Joy is the Norwegian Cruise Line's first purpose-built cruise ship for the Chinese market. Tan Ping's artwork will deliver Norwegian Joy closer to the Chinese consumers providing an unparalleled cruise experience to this region.
The mythical phoenix bird born out of the ashes is a ubiquitous motif in Chinese culture and can be found throughout the centuries in architectural flourishes, and paintings. "The Phoenix symbolizes beauty and good luck in Chinese culture and, Norwegian Joy will bridge across the West and the East and bring Chinese people's best wish to the world and everyone in her path," said Tan Ping.
Tan Ping modernistic style is simple and graceful, in the hull artwork with color palette dominated by red and yellow. Red in China signifies joy, which is perfect match for a ship of the very same name. Yellow represents grandeur, the feeling that a cruise ship of this size evokes in the people who see it.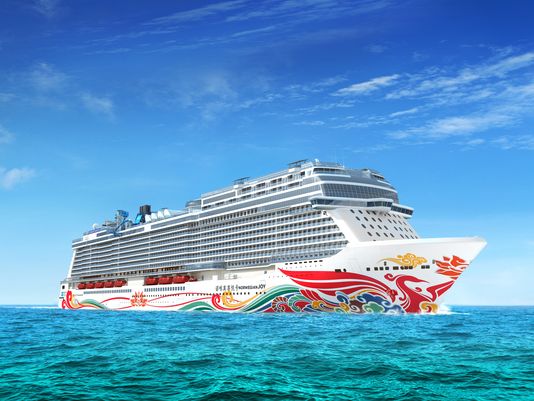 "We are incredibly honored to be partnering with Professor Tan Ping," says David Herrera, President, Norwegian Cruise Line China. "Tan Ping's ability to design concepts that easily blend traditional Chinese culture with moving and changing aspects of life is inspiring. He has perfectly captured the feel of Norwegian Joy as a luxurious, technologically advanced ship while honoring traditional Chinese values. The hull art embodies the essence of the best of The East meshing perfectly with the best of The West."
Source and photos: www.ncl.eu