Papeete welcomes Viking Orion, the first international cruise ship since start of the pandemic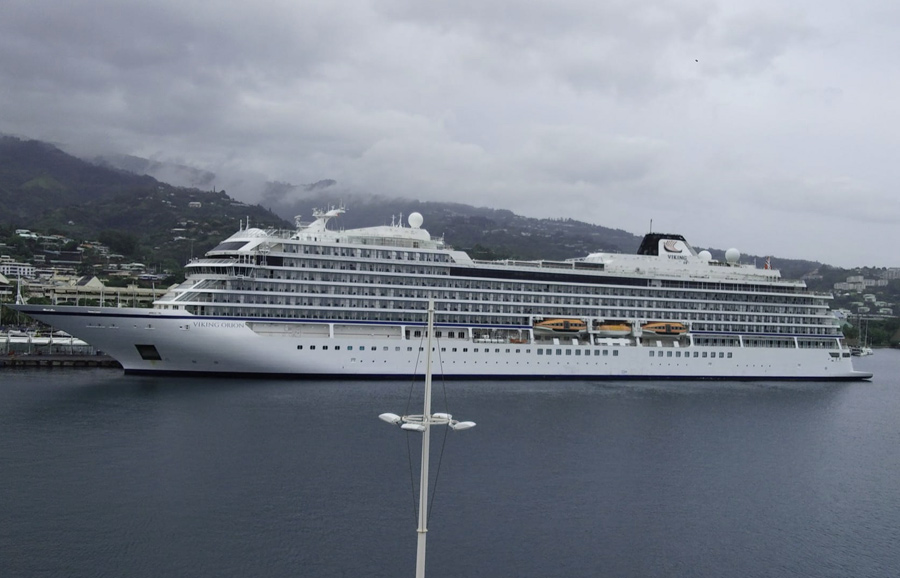 Tahiti welcomed the arrival of Viking Orion, the first international cruise ship in nearly two years, to visit French Polynesia. As the Viking Orion, docked in Papeete the ship was welcomed by orchestra and dancers, on the dock while busses and tourist guides were all ready to show the beauty of the island to the guests. With its 228 meters and 450 passengers on board out of the maximum capacity of 930, the vessel is the first transpacific cruise ship to stop in Tahiti since March 2020.
While some cruise ships such as Aranui, Paul Gauguin and Star Breeze, which embark and disembark passengers from Tahiti and remain in Polynesia, were able to resume their cruises several months ago, international cruises had to wait for the lifting of the ban until November 2021. It was during this period that Tahiti Tourism industry started to prepare for the recovery, both in terms of tourism and health protocols.
Cruise ship visits to French Polynesia had been suspended because of the pandemic, but tourism officials expect this year's numbers to rebound and match those of 2019. According to Ministry of Tourism this year, a total of 200 international cruise ship visits are expected in French Polynesia's archipelagos, giving the sector a boost. In addition, about 1,000 cruise ship stops are expected this year sailing from Papeete, which is close to that of 2019, when French Polynesia had 1,200 stopovers.
Viking Orion departed from Los Angeles, California on January 5, for a 32-day Grand Polynesia cruise to  Nuku Hiva, Papeete, Bora Bora, Rarotonga, Cook Islands, Moorea, and Atuona, before returning to LA on February 6.