Port Charlottetown Celebrates Holland America Line's 150th Anniversary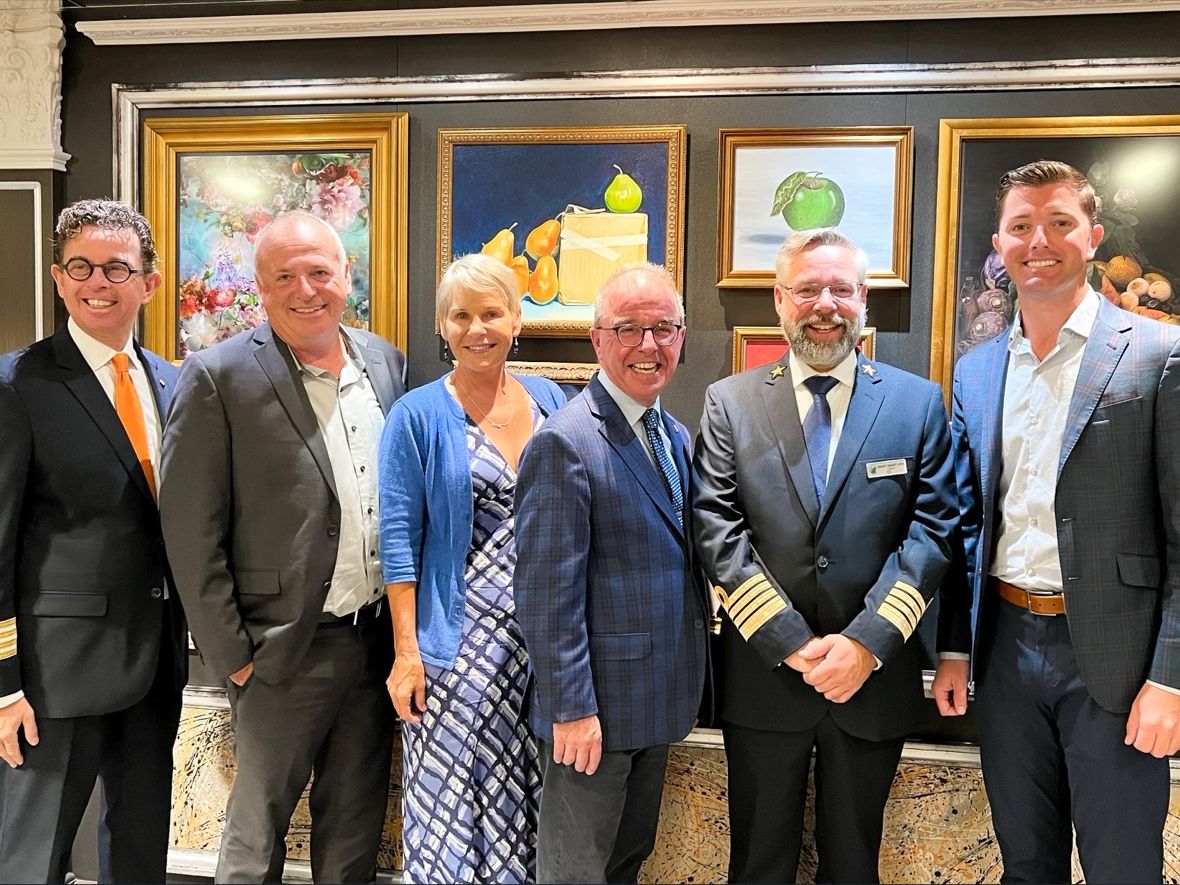 Port Charlottetown played host to a momentous occasion as it warmly welcomed the Zuiderdam and Zaandam ships from Holland America Line. The gathering marked the esteemed cruise company's impressive 150 years of operation. In a heartfelt gesture, Captain Bart Vaartjes presented a commemorative plaque to acknowledge the enduring partnership between the line and the port.
Captain Bart Vaartjes, Master of ms Zuiderdam said "As we celebrate our 150th anniversary, we're delighted to share this occasion with our sister ship Zaandam and join hands with our esteemed friends and partners at the Port of Charlottetown, the Province of Prince Edward Island, and other stakeholders on this picturesque island. Since our inaugural call to the Port of Charlottetown, it has been instrumental in shaping the success of Holland America Line, serving as a vital gateway to Canada and beyond for countless adventurers. We eagerly anticipate many more years of visits to come."
The arrival of the passengers from both vessels was greeted by the iconic Anne of Green Gables, extending a warm wave and a photo opportunity. Visitors were treated to a quintessential Island welcome, savoring the flavors of Canada's Food Island, including delectable lobster rolls, succulent oysters, and the famed raspberry cordial.
Kelly Murphy, Director of Marketing & Cruise Development for the Charlottetown Harbour Authority, emphasized the honor of commemorating this anniversary alongside Holland America Line. She expressed that the crew members and passengers of both Zaandam and Zuiderdam have been vital in extending the tourism season on Prince Edward Island. Their support of local artisans and businesses underscores the cruise line's role not only as a mere operator but as a genuine partner in the community.
Throughout the 2023 cruise season, Holland America Line's impact on Prince Edward Island has been undeniable, boasting 22 scheduled calls that have brought an estimated total of over 50,000 passengers and crew members to the island. The cumulative economic influence of these visits is estimated to exceed 3.99 million Canadian dollars. This milestone celebration serves as a testament to the enduring bond between Holland America Line and the enchanting realm of Prince Edward Island.
Source and photo: Port Charlottetown