Princess Cruises to pay $40 million fine for illegal pollution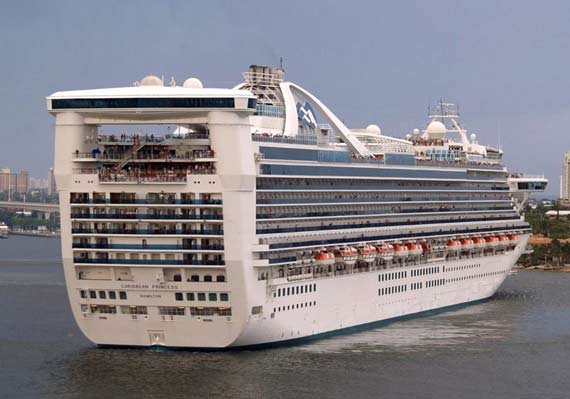 The US Department of Justice announced that Princess Cruise Lines has plead guilty to seven charges for intentional pollution of the seas and cover up. The cruise line will have to pay maximum penalty of $40 million fine, which is largest-ever for deliberate pollution of the seas. As reported by the Division of Environment and Natural Resources, the cruise ship Caribbean Princess was dumping oil contaminated waste illegally since 2005 using a so-called "magic pipe".
Illegal Pollution revealed by a whistleblower 
In 2013 a newly hired engineer on the Caribbean Princess step forward and reported the illegal discharge of oily waste using magic pipe to bypass the water waste system, to the British Maritime and Coastguard Agency (MCA). The discharge of 4,227 gallons contaminated waste happened while Caribbean Princess was sailing 23 miles off the coast of England on August 23, 2013. The whistleblower quit his job as soon as the ship reached Southampton, England and reported the case immediately.
Cover-up by the "Broccino Corto" chief engineer
Caribbean Princess chief engineer also known among the crew as "broccino corto" (Italian expression for a cheap person with short arms, preventing him to reach his wallet) ordered a cover-up and told crew to lie the U.S. Coast Guard officers who boarded once the vessel was in US port. 
On Sept. 14, 2013 The US authorities conducted detail examination of Caribbean Princess in New York City, and found the bypass used for discharge. However chief engineer arrogance and cover-up was obvious, even so that he held a sign "LA is listening" for his crew to see (indicating that the Corporate office is listening) in front of U.S. Coast Guard.
Multiple methods used to pollute the seas
Caribbean Princess used numerous methods over the period of time to pollute the seas.  Back in March 8, 2014 DOJ investigative team boarded the Vessel in Houston, Texas, and found the discharging valve and when removed found to contain black oil.  The U.S. investigator uncovered two other illegal practices on Caribbean Princess, Coral Princess, Grand Princess, Star Princess, and Golden Princess. This cruise ships used a salt water valve when bilge waste was being processed by the oily water separator and oil content monitor. According to the reports this was done frequently on the Caribbean Princess in 2012 and 2013.  The second illegal practice involved discharges of oily water from the overflow of graywater tanks into the machinery space bilges.
This reflects very poorly on Princess
"The pollution in this case was the result of more than just bad actors on one ship," said Assistant Attorney General Cruden.  "It reflects very poorly on Princess's culture and management.  This is a company that knew better and should have done better. Hopefully the outcome of this case has the potential not just to chart a new course for this company, but for other companies as well."
In addition to the $40 million fine, part of the agreement between Princess parent company Carnival Corp. and The Department of Justice, eight cruise companies including Carnival Cruise Line, Holland America Line, Seabourn, and AIDA Cruises will be under supervised Environmental Compliance Program for five years.  
Below is a video statement by Princess Cruises President, Jan Swartz.