Queen Mary 2 Rescues Sailor in the North Atlantic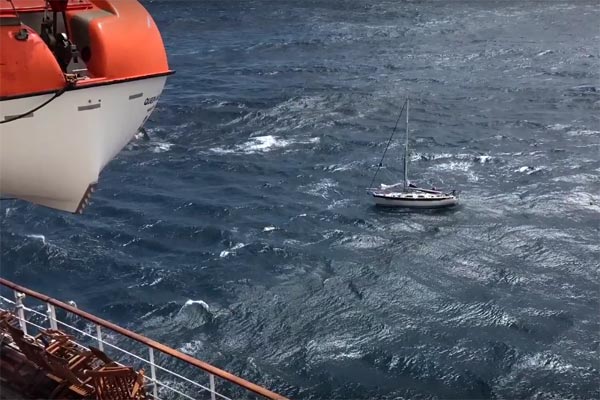 British sailor Mervyn Wheatley is back on land after being rescued in the Atlantic Ocean from his battered yacht by the cruise liner Queen Mary 2. Cunard's flagship participated last Saturday in the rescue of a man who had suffered problems with his yacht due to a strong storm. Mervyn Wheatley was participating in the transatlantic race Original Single Handed Transatlantic Race, known as OSTAR when his yacht was battered by strong gusts of wind. His yacht was hit by 15-meter waves and 60-knot winds during a heavy storm in the North Atlantic, causing extensive damage to his vessel.
The sailor had already participated in this race five times, sailing alone on a voyage of 6,500 nautical miles. He had left Plymouth bound for Newport, Rhode Island on his Tamarind yacht, and had already crossed the Atlantic 19 times, so he had great experience in this itinerary. Mervyn had to issue a distress signal last Friday upon which UK Coast Guard and its counterparts in Halifax, Canada, launched a long-range rescue mission. After receiving the emergency signal Queen Mary 2 Captain Chris Wells deviated its course and went to the rescue. The ship arrived around 1.00 am Saturday to carry out the rescue. 
Captain Wells and his crew led the rescue mission and said that coming to the aid of an endangered vessel was a common practice. "We are very grateful for the support and professionalism that the Queen Mary 2 provided during this rescue," said Daniel Bailey, a maritime operations officer for the UK Coast Guard.