Shakira and Costa Cruises to build a school in Colombia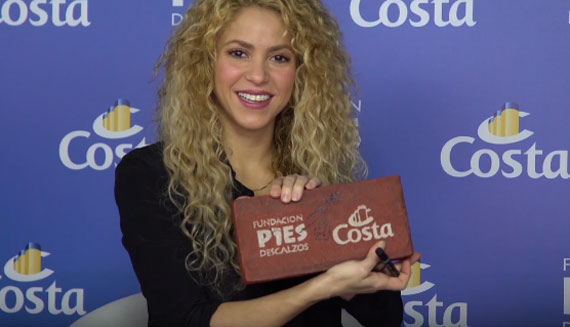 Costa Cruises and the superstar Shakira presented the official start of the donation project "Building Happiness" for construction of a school in Colombia. The project by the Pies Descalzos Foundation aims to help disadvantaged families and children in Colombia by providing access to quality education.
At the presentation event, Neil Palomba, General Manager of Costa Crociere SpA, handed Shakira the first brick for the school, representing "the brick of happiness", which symbolizes the beginning of the project. The construction will begin in Cartagena in 2018 when the brick will arrive aboard a Costa Cruises ship. During navigation, both Costa's crew and passengers will have the opportunity to leave special messages of hope.
The new school will be built in Cartagena, between the "Ciudad del Bicentenario" and "Villa de Aranjuez" districts, and is expected to be completed by June 2019. The school will provide access to education and support for 1,300 local students between the ages of 6 to 18. The Pies Descalzos Foundation's "quality public education" model will include the nutrition and health programs, as well as educational activities for parents and the community in general. The center will be equipped with state-of-the-art facilities such as a library, auditorium, dining room, sports areas, laboratories (professional, scientific and technological development), and more than 40 classes and rooms.
Fundación Pies Descalzos is a Colombian NGO (Non-Governmental Organization) founded by the international artist Shakira with the main objective of promoting quality public education for disadvantaged children in Colombia.
The close relationship between Costa Cruceros and Shakira, a protagonist of the campaign of the Italian cruise company "Felicità al quadrato" since 2015, has inspired Costa to participate actively in the philanthropic program of the Foundation that created by the singer.
"As a global company we have a duty and the opportunity to support communities from different continents," said Neil Palomba, Director General of Costa Crociere SpA. At the end of 2014, we created the Costa Cruises Foundation as a natural transition of the social and environmental commitment Costa Cruceros has had for years. Today our commitment to the Pies Descalzos Foundation allows us to help children and families in South America. "
In Asia, Costa Cruises Foundation helps in the education of 500 disadvantaged children in the Philippines, while in Europe the Foundation is deeply committed to promoting social and environmental improvement in different communities through 21 projects.