Ship Life To Fit Life - A Crew Member's Guide to Living The Fit Life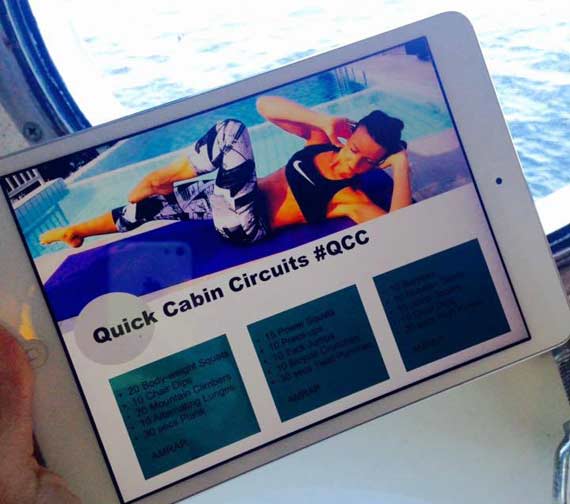 Hi, guys! I'm Carys and I am the founder of 'Ship Life To Fit Life'.
So what is Ship Life To Fit Life?
Its an eBook; 'Ship Life To Fit Life – A Crew Member's Guide to Living The Fit Life', its an online community, though facebook and the hashtag #shiplifetofitlife, which supports and educates crew members to live a fit and healthy life on board. It's also online personal training made affordable and accessible specifically for crew members.
So a bit about me....
I have been working on ships for 6 years; NCL, MSC and now Princess Cruises. I am a dancer in the production show team and I love my job. But having a lot of time at sea or sitting for hours on library duty,  made me realise that I needed to keep my mind active, as well as my body. I have always been interested in health and fitness and wanted to increase my knowledge, so I decide to study to become a Personal Trainer. This involved countless days of downloading lessons in cafes around the world (with terrible wifi!) and going to courses and taking exams in London, England.
Once I started studying I 'caught the bug' and am always working to extend my knowledge in fitness, health and nutrition.
In 2015, after already having my qualification for a year I was itching to start training people in the gym. I decided to offer my services to my fellow crew members onboard. Some I would train in the crew gym, some the passenger gym, some people in port days and some I would train at 11pm in full stage make up after I finished the shows! I quickly realised that I didn't have enough time to help everyone who wanted it.  I decided that an information booklet that crew members could download would be a great way to reach more people. And 'Ship Life To Fit Life' was born!
Being on a ship means healthy choices are not always easy. Hours are long, rest time is short and food options are out of our control. We all know that at the end of a hard shift we just want to eat comfort food and drink in crew bar.  This is something I came across time and time again. I wanted to put all the advise I gave to my clients in one place. I wanted to keep it affordable and I wanted to get people excited about health and fitness.
So I went to work, putting in all the information that I think is of utmost importance when it comes to health and fitness. In my book you will find no fad diets, no crazy training plans just sound solid advice on moving from 'Ship Life' to 'Fit Life'.
In the book you will find:
•Advice on goal setting and getting started
•Workouts that can be done in your cabin
•A 6 week gym based programme
•HIIT workouts
•A workout calender
•Advice on what to eat on board
•Smoothie recipes
•In-port shopping list
•Calories in crew bar beverages
•Advice on supplements, hydration and sleep. (The most important elements!)
In 2016 I decided to start up my personal training online through an app called 'Trainerize'. This is a great way to continue training those people onboard who had already seen fantastic results and wanted to continue with their programme after we had left the ship. My online services are also available to any crew member who would like to train with me, from all over the world.
Online personal Training offers you:
•An initial consultation via messenger or 'whatsapp'.
•New workouts, tailored to you delivered to you via the app every month.
•Videos and descriptions of all exercises.
•A calender synced with me where I schedule and track your workouts.
•Other in-app features include: progress picture comparison, connection to 'my fitness pal' and weight and measurement tracker.
•Advice on nutrition (often clients share a photo food diary with me).
•Motivation, advice, support and general one-on-one connection with me.
I still continue with training clients one-on-one which I absolutely love. I also teach 'Bootcamp', 'TRX' and an 'Abs and Stretch class' onboard. I love seeing people become inspired by health and fitness and I hope to continue to watch this awesome community grow!
The Ship Life To Fit Life movement is infectious. Only the other day when out in Tauranger, New Zealand I saw clients and boot camp members out hiking and running and motivating their friends to do the same. One people start seeing what being fit and healthy can bring to their life they cant get enough!
My mission statement is as follows:
"I will provide high quality, affordable personal training both in person and online. I will strive to educate and inspire crew members by making fitness and nutrition information accessible and interesting, tailored towards people working at sea."
Thank you so much for reading and I hope to hear from anyone wanting to start their 'Fit Life'