TUI Cruises' Mein Schiff 4 Successfully Tests Biofuel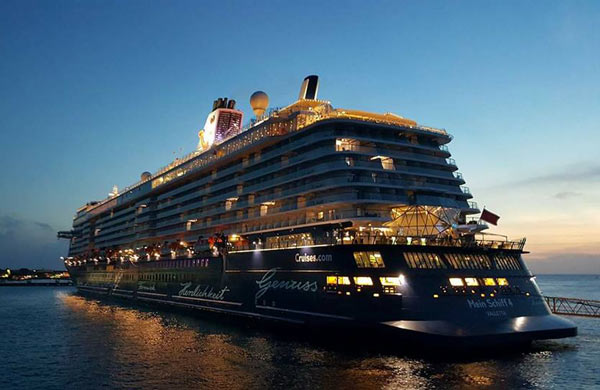 In a significant step towards achieving climate-neutral cruising, TUI Cruises' Mein Schiff 4 recently marked a milestone by integrating sustainable biofuel into its operations, leading to a reduction in CO2 emissions.
During its northern voyage, Mein Schiff 4 became the first vessel in the fleet to test the eco-friendly biofuel, blending it with marine diesel at a ratio of approximately 30%. The results were promising, showcasing reduced emissions and bringing the company closer to its climate-neutral cruise objectives. The 2nd generation biofuel utilized is entirely plant-based, primarily sourced from cooking oil residues. This clean fuel boasts low sulfur oxide content and, in its pure form, can significantly reduce CO2 emissions by up to 90% compared to conventional fossil fuels.
The cruise ship embarked once again from Kiel, setting its course towards the picturesque Spitsbergen and Geirangerfjord, along with the captivating Sunnylvsfjord. During layovers in Schleswig-Holstein's state capital, Alesund, and Bergen, Mein Schiff 4 also plans to harness green shore power, further advancing its sustainability efforts.
As part of TUI Cruises' ambitious 2030 sustainability strategy, the biofuel test run on Mein Schiff 4 plays a crucial role. By 2030, TUI aims to achieve a remarkable 27.5% reduction in absolute CO2 emissions compared to 2019 levels. Setting an industry precedent, the cruise line's climate targets have been meticulously assessed and validated by the esteemed Science Based Targets initiative (SBTi). Pioneering a commitment to rigorous climate protection goals, TUI Cruises stands as the first cruise company globally to undertake such absolute and closely monitored targets. To achieve these goals, the company will implement various measures, including the adoption of shore power, utilization of clean fuels, enhanced energy efficiency through eco-friendly underwater silicone coatings, reduced average speed through "slow steaming," and other sustainability initiatives.
Lucienne Damm, Head of Sustainability at TUI Cruises, emphasizes the significance of the successful biofuel test phase on Mein Schiff 4, stating, "The biofuels can be used directly in the ship's engines without costly conversion or conversion measures. This shows once again that we are not only investing in more sustainable cruises with our new builds such as Mein Schiff 7 and the eighth ship, but are also making every adjustment to the existing fleet to become better and even more climate-friendly." With such determined efforts, TUI Cruises sets a commendable example for the cruise industry's transition towards a greener and more responsible future.