Two Carnival Cruise Ships Collide In Cozumel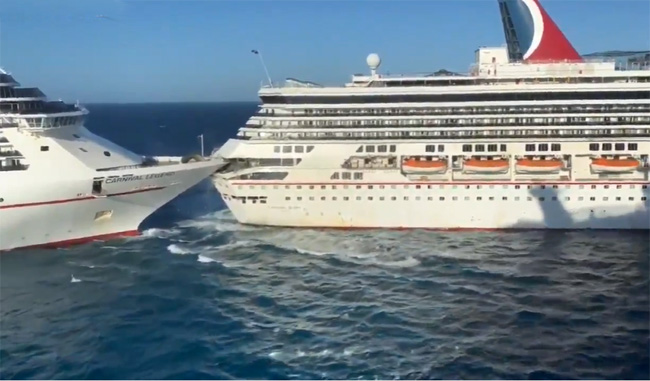 Two Carnival cruise ships have crashed into each other today in the port of Cozumel, Mexico around 8.30 am local time. The incident happen during maneuvering procedure performed by the cruise ship Carnival Glory while the vessel was docking when it struck the Carnival Legend, which was already moored behind it. 
According to Carnival Cruise Line statement, one person on Carnival Glory suffered a minor injury while a group of guests was evacuated from the Platinum dining room which is located on deck 3 and deck 4.
"Carnival Glory was maneuvering to dock when it made contact with Carnival Legend which was already alongside," a spokesperson for the company wrote in an emailed statement. Carnival says after the impact both ships were inspected and they are seaworthy "We are assessing the damage but there are no issues that impact the seaworthiness of either ship. We have advised guests from both ships to enjoy their day ashore in Cozumel." Carnival spokesperson said.
Read Here: Update on Carnival Glory Itinerary Following the Accident in Cozumel
The following video shows the moment of the crash when the ships hit each other, resulting in visible damage to the stern of the Carnival Glory. At this moment it is unclear what exactly caused the two ships to collide.
Carnival Glory just crashed into Carnival Legend and almost crashed into Oasis of the Seas at the Cozumel cruise port. #FoxNews #RoyalCaribbean #CarnivalLegend #CarnivalGlory #OasisoftheSeas pic.twitter.com/5ITBCfz99L

— Matthew Bruin (@BruinMatthew) December 20, 2019
It is important to mention that during the docking local pilots board the ship and they bring the vessel in and out of port.
Eyewitnesses on land shared several videos of the collision including this one from Carlos Matus.
El crucero Carnival Glory chocó contra su similar Carnival Fantasy en #Cozumel esta mañana al realizar maniobras. No hay heridos, pero si perdidas millonarias y una investigación por posible negligencia #Cruceros #Choque #news pic.twitter.com/P8DarIgltr

— Carlos Matus - todólogo de la nada (@Datus_Matus) December 20, 2019
Carnival Glory, which left its home port in New Orleans on Sunday on a 7 Night Western Caribbean voyage, was scheduled to dock in Cozumel at 10 a.m Friday, while the Carnival Legend was scheduled to dock at 8 a.m.