Video: MSC Poesia battered by rough seas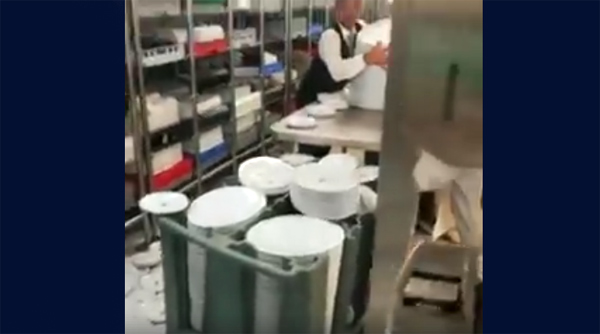 The cruise ship MSC Poesia was caught in a storm while sailing off the coast of Uruguay. 
MSC Poesia was sailing near Punta Del Este when the storm hit the ship. Due to high winds and rough seas, the vessel rocked side-to-side causing interior equipment to smash throughout the ship as it violently rolled. Because of the adverse weather conditions, the ship was forced to cancel two ports of call.
A footage inside the MSC Poesia galley was recorded at the time when the ship ran into rough seas causing many plates and equipment to fall down on the floor. The same happen throughout ships bars and staterooms. At the buffet everything was down on the floor. One crew member says ''1 pm fixing the bar today because soda cans and bottles turned everything on the floor.''
Passengers sailing on the December 2 – December 9 voyage say that they will never forget this experience. After the storm, the hard-working crew of MSC Poesia managed to clean up all the mess and restore the operations back to normal.
Video Credit Noticias de Cruceros