Anthem of the Seas battles 100 mph winds by the remnants of Hermine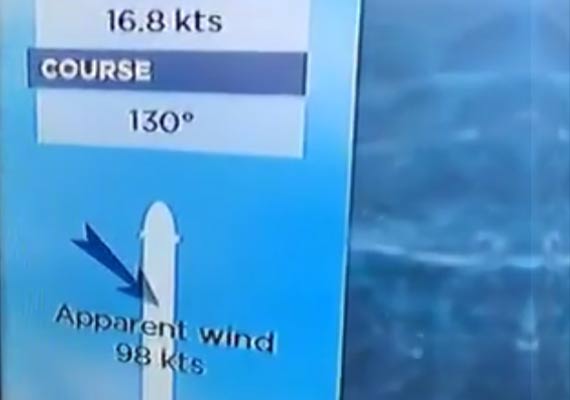 The Royal Caribbean cruise ship Anthem of the Seas, which left from Cape Liberty, New Jersey, toward Bermuda faced high winds from the Tropical Storm Hermine. The rough conditions worsened early Sunday when the cruise ship started swaying. According to one passenger from New Jersey the waves were up to 40 feet with wind gusts up to 100 knots. On-board photo shows the current screen showing 98 knots wind.
Dining room material was all over the restaurant when guests tried to dine, and many people were sea sick from the rough conditions. According to the meteorologist Ryan Maue "Anthem of Seas was basically in worst quadrant of post-tropical Hurricane Hermine / Nor'easter."
According to the National Hurricane Center Subtropical Storm Hermine is expected to become a hurricane in the next 24 to 48 hours as it approaches the coast of New Jersey. Hermine struck Florida last Friday as a category one hurricane before moving over the Carolinas as a tropical storm, claiming lives of two people.