Crew Member Dies Aboard Carnival Ecstasy
We are sad to report that a Carnival team member passed away onboard the cruise ship Carnival Ecstasy. Michael Bryan Agadier Abinsay, age 32, from San Narciso, Zambales, Philippines passed away ten days ago onboard Carnival Ecstasy. According to reports Michael went to his crew cabin to take a rest and never woke up. Unofficial sources say he died from a sudden cardiac arrest while sleeping in his bed. His fellow crew members alerted the ship's medical staff who quickly responded to the scene. Unfortunately, it was too late.
Michael started working for Carnival Cruise Line back in 2018 on board Carnival Paradise as a galley steward. Before joining Carnival he finished at the Culinary School "Blue Spoon" in the Philippines. He was an aspiring and talented chef always willing to give a helping hand to his colleagues.
Michael celebrated his last birthday in December with his fellow crew members onboard Carnival Ecstasy. He shared the following photo with a cake in his hands.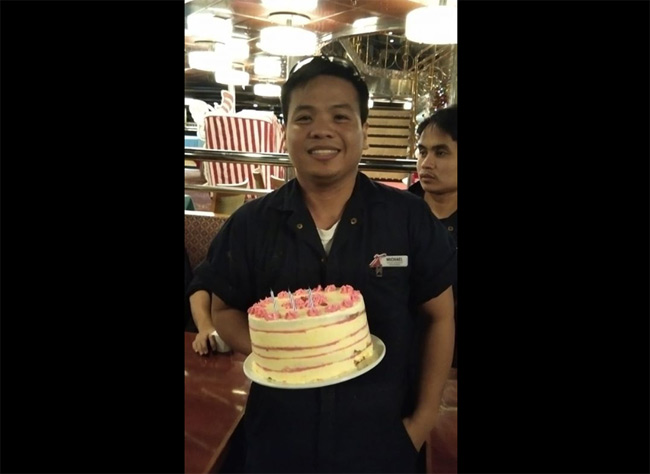 Many friends and fellow crew members who knew Michael said final farewell. They expressed condolences to Michael's family, saying that he was one of the kindest friendly people they ever met.
"Michael was a good friend, a brother, and coworker. He was very humble and his attitude was always down to earth. Michael was always there if anyone needed help, no matter what as long as he can help, simple or big things he will always help others. May his soul rest in peace in the hands of our Lord." Says one of Michael's friends.
"I am so thankful to have met you even though it was only for a short time! You had the heart of a fighter and never backed down from any task or job assigned to you no matter how tough! My fellow galley steward, hell we did dry dock together under the toughest circumstances! You were nothing short of amazing my friend! Now with a heavy heart and for the second time, I must say goodbye. I hope you find peace brother! RIP." said his fellow crew member.
Galley Steward is one of the toughest job positions on cruise ships. This is an entry-level position where assigned crew are in charge of cleaning all food preparation work areas in the galleys, including dish/pot washers, equipment, dishware, cleaning floors, dishware storage and other numerous tasks. They also execute proper waste handling and perform all tasks according to the USPH rules and regulations. All the cruise ship crew members know the extent of the Galley Stewards duties and appreciate their hard work each day these people perform it with pride.
Our heartfelt sympathies and prayers go out to the Michael family members, as well as to all Carnival team members. He will be dearly missed, and remain in the hearts and thoughts of all of us.