Dream Cruises Celebrates 5th Birthday
Dream Cruises is marking its 5th birthday in the month of November with a special celebration "Hi 5 on the High Seas". Since the launch of Genting Dream in 2016, Dream Cruises has enjoyed half a decade of popular and critical success within the Asia Pacific, welcoming over 1.8 million guests on board its fleet to enjoy a cruise experience that is Asian at heart and international in spirit. As a special treat for the brand's loyal guests, Dream Cruises is also launching a lucky draw open to all Taiwanese residents who have completed their first round of COVID-19 vaccination. Five lucky participants will win an "All-You-Can-Cruise" Annual Pass worth 8.55 million NTD, a cruise in a suite in The Palace, Dream Cruises' fleet-wide luxury ship-within-a-ship concept, worth 120,000 NTD, or three cruises in a Balcony Stateroom worth 64,000 NTD each, all on board the award-winning Explorer Dream. The contest will run from 19 November to 19 December.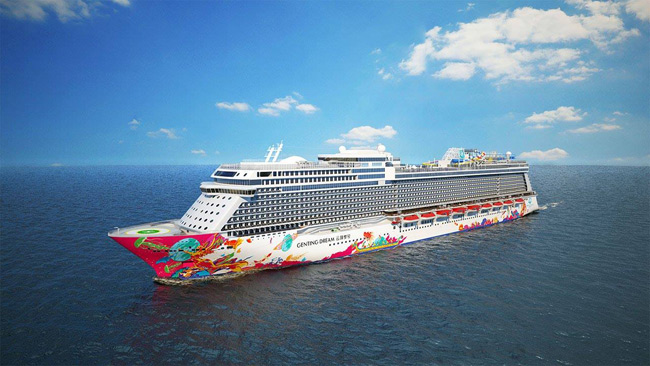 "Dream Cruises is proud to celebrate its 5th birthday this month and to share this momentous occasion with the people of Taiwan who have been such strong supporters of the brand since its launch," said Mr. Michael Goh, President, Dream Cruises. "To show our appreciation, we are thrilled to commemorate this event with our lucky draw highlighted by the grand prize of an "All-You-CanCruise" Annual Pass on board Explorer Dream." 
The culmination of Genting Hong Kong's cruise industry experience which began in 1993, Dream Cruises was established to tap into the premium/luxury Asian cruise market, offering consumers a homegrown option catering specifically to their needs and desires. The debut of Genting Dream in 2016 marked the beginning of what has become an entire fleet of quality, German-built ships, with the subsequent launch of World Dream in 2017 and the debut of Explorer Dream in 2019. 
In recognition of the brand's attention to service and detail, in only five short years, Dream Cruises has amassed over 80 awards and honours from a variety of respected publications and organizations highlighted by Genting Dream and World Dream's inclusion in the top ten of the Large Resort Ships category of the Berlitz Cruising and Cruise Guide 2020 – the only two highest rated 4.5 star ships operating in the region – and Explorer Dream in the top 20 of the Mid-Size Ships category. 2 
Throughout this time, Taiwan has played a key role in the history Dream Cruises and its parent company, Genting Hong Kong, as a long-standing homeport and port of call for its cruise ships and an enduringly popular destination for guests. Most recently, Taiwan was also the destination that marked the restart of cruises in Asia since the COVID-19 pandemic when Dream Cruises' Explorer Dream resumed operations in July 2020. Since then, Dream Cruises has enjoyed a stellar record of no COVID-19 related incidents in Taiwan until sailings were suspended in May 2021. 
With the restart of cruises last year, Dream Cruises has also provided real economic benefits to Taiwan with the company pumping over $31 million US into the local economy through the operation of Explorer Dream, engaging over 30 various local vendors to provide a variety of good and services for the ship. Additionally, Explorer Dream provided employment opportunities to around 100 Taiwanese residents during her period of service on the island. Looking ahead, Mr. Goh added: "Dream Cruises commends the Taiwan authorities for their efforts in managing the COVID-19 situation in Taiwan and, with current cases consistently in the single digits; we are looking forward to the time when domestic cruises are able to restart. Taiwan is a very important market for Dream Cruises not only due to our long history here but also as the first location in Asia to allow the restart of cruises with Explorer Dream last July and we are looking forward to welcoming passengers on board soon."