Majestic Princess joins the fleet this week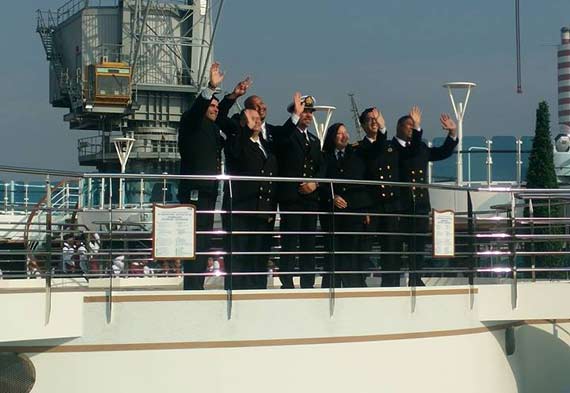 All crew are on deck and work hard for the final preparations of the latest Princess cruise ship, Majestic Princess. The vessel specifically designed for the Chinese market will join the fleet later this week on March 31, 2017, with Captain Dino Sagani at the helm. 
Before departing to Asia the newest and most luxurious ship in the Princess Cruises fleet will sail the Mediterranean on 7, 14, 21 and 28-day voyages from Rome, Barcelona or Athens. A repositioning voyage will start from Barcelona on May 14, 2017, with stops in Dubai and Singapore before arriving in its home port Shanghai, on July 11, 2017. The 141,000 gross ton cruise ship will have double occupancy for 3560 passengers, an overall length of 1083ft(330m), and maximum cruising speed 22 knots.
Princess Cruises released the following 3D video of the vessel
The crew member Kent Gaite Prudente posted the following image with part of the cooks currently on board Majestic Princess.
Here is a photo of the entire Bar Department on board. Your bar team is waiting to welcome you.Hope you see some familiar faces.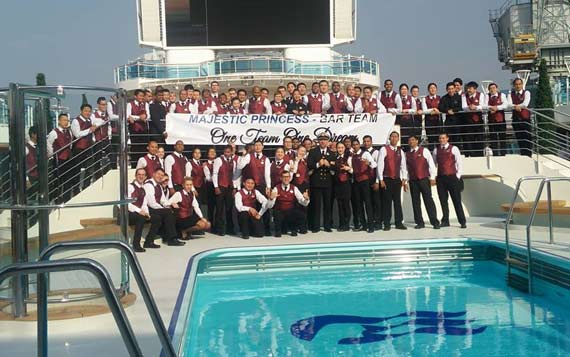 We wish fair winds and calm seas to Majestic Princess and all who sail on her.