MS Zaandam Crew Member Evacuated To Shore For Medical Treatment
A crew member from the cruise ship MS Zaandam, anchored off the coast of Torbay, was medically evacuated on January 8, to shore for medical treatment. Torbay Coastguard Rescue Team was tasked by the Maritime and Coastguard Agency to assist with the medical evacuation of the crew member who had to be treated in a hospital. Torbay coastguard reports that the crew member was transferred onshore by tender boat which arrived at the harbor at around 7:30 pm. When the tender boat arrived alongside the rescue team had assisted in securing the tender and a member of the team made contact with the ship's senior nurse who had accompanied the patient for a hand over. 
"As we where still waiting for South Western Ambulance Service NHS Foundation Trust to arrive we kept the casualty in the comfort of the tender. When the ambulance arrived the crew escorted the casualty to the ambulance for further treatment. It was a very professional and calm operation by all concerned, the crew of the tender/ship were a pleasure to work with under the circumstances," said Torbay coastguard rescue team.
The rescue operation was described as very cooperative and friendly between the rescue team and the HAL crew.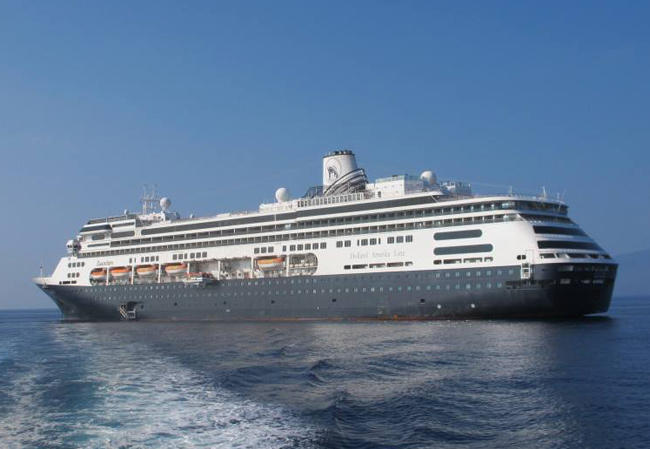 "As we waited for the ambulance it was nice to have a moment to get to know them and a insight as to how life is onboard (all whilst conforming with COVID protocol). They also mentioned and sent their thanks again to the people of Torbay for the Christmas surprises sent to them and how welcomed it was."
The report did not name the crew member, nationality, or the reason for the medical disembarkation.
We hope that the crew member's condition is not serious, and he/she gets well soon. As fellow crew members we all know that it is hard being ill thousands of miles, away from home and away from loved ones, therefore as a crew community we stand together and send best wishes for a speedy recovery.
Last month a crew member suffering a suspected heart attack was medically evacuated from the cruise ship Marella Explorer 2, anchored off the coast of Torbay. With the assistance from RNLI lifeboat station volunteers, the crew member was taken ashore to Torquay and transferred to the hospital.
Photo Credit: Torbay Coastguard Rescue Team