MSC Cruises crew shares stories and experience as they return back to the ships
The global MSC family is slowly assembling and returning back to the cruise ships. Crew members from the Philippines, Peru, Indonesia and India have already boarded several ships in Italy, ahead of the necessary preparations for a new restart this year. I had the pleasure to talk with several MSC crew members who just joined the ships, while they are in 14-day mandatory quarantine, and shared their experience and expectations. They were kind enough to tell their stories and give hope to the crew back home who are waiting and wondering what is happening with MSC Cruises.
Can you please tell me more about your journey back to the ship and how does it feel to be back on board? 
- I embarked a couple of days ago. It feels like my first contract again. I was happy and bit nervous because before we join the ship we need to have an RT-PCR test 48 hrs before our flight. Good thing our results were negative. Flying from Manila going to Italy was a big difference from our previous flight. Like you have to wear your face mask and face shield at all-time even in the plane. Then once we arrived here at Italy. We undergo for another swab test before we embark and we had our quarantine for 14 days then we will be transferred to our ship.
How did you feel when you received news you'll be joining the ship? How did your family react? Did you give a second thought to return onboard or you just grab this opportunity with open arms?
- When they called me and informed that I will be joining the ship I was so grateful. My heart is full of gratitude at the same time my family was worried because of the cases of covid are getting higher in other countries. But I grab this opportunity because not all of us has the opportunity to be back on board.
How many crew joined MSC cruise ships from your country?
April 9, 2021. A total of 121 Crew members joined from Philippines that day. Other nationalities embarked also from Peru and India. And Also for Indonesian people, I think they are 50 people embarking also.
How is the overall atmosphere among the crew?
- We're all happy and excited. It feels like we are opening a new ship. Its been a year since MSC Seaside stopped her operation in the Caribbean. Now we're about to sail in the Mediterranean.
Do you know which ship you will board?
- We have to complete first our 14 days quarantine here at MSC Magnifica. Then we will have another swab test, once were all negative we will be transferred to MSC Seaside.
Do you have free Wi-Fi while in quarantine and are there other things you do to keep yourself occupied?
- Yes, our Wi-Fi internet is free of charge. We're just keeping ourselves busy during this time. By watching TV, e-trainings and doing exercise in the morning. We have to be fit and healthy at this time.
Are there daily announcements on the ship PA system with updates and words of support?
- Yes, they always update us. Like earlier, they just announced that our swab test results are all negative and our ship is still Covid-free. And also our medical team is doing daily checking of our body temperature and any other possible symptoms secondary to covid 19.
What is your message to all MSC crew at home, waiting to join the ships?
- My message to all the crew members who are still waiting at home. Grab that chance that you're still with your family, be thankful despite of this pandemic we're still alive and surviving. Life onboard is different now you have to undergo for swab every week just to make sure that the ship and everyone is covid free. You have to take care of yourself not only your physical but also your mental health.
Another crew member was kind enough to share with us the first-hand experience. Here's the crew members' story.
How many contracts you have for MSC Cruises, and what's the reason you decided to join the ships once again?
- This is my second contract only, supposed to be the third but last year my second contract was only 1 month because of the pandemic that's why I consider this one as a second. I have decided to go back onboard even if it's still risky because I don't have any penny anymore since I was not able to complete my contract last year. I worked for 1month onboard but 2weeks only then all the passengers' disembarked already. I have 2 kids to support so that's the main reason.
How did you feel when you received the news you'll be joining the ship?
- Well, I grabbed this opportunity without any hesitation because chance is only given once that's why I didn't hesitate. Not all of us are lucky to be called to go back onboard. My Family leave me no choice since they don't know where to get any source of income anymore. When I left my country, it's lockdown again that's why it's very hard for us to survive if we don't have work. It's also 1 year and 2 weeks since I've been repatriated.
Can you tell me more about your journey back to the ship?
My Agency called me on April 7, 5:30 pm to inform me that my swab in Hotel will be on April 8, 6:30 am. We were all 67 crews. 5 from us got a positive result the day our coordinators dispatched us and they were not able to join the ship. Sadly, before we check-in in the Hotel on that day, there are another 3 crews who check out from that Hotel because they are all positive as well.
What is your message to all MSC Crew waiting at home, to join the ship?
- My message for all the crew who's still at home, cherish the moment you are still with your beloved family because no one knows what tomorrow will bring. Some of the crews who had been called to join the ship, there are some incidences that they are all okay when they leave their houses but the time they travel and encounter different people, they got affected by the virus. That's why don't think that those crews who go onboard first are lucky, it's their life that are at risk. It's a 50-50 situation. But all I can say is it's easy to lose money than to lose a life especially with the one you love.
Another crew member wanted to share a message to all crew who are still at home or already onboard. My advice is, it's really important for you to take good care of your hearts, mind and body...Emotionally, Mentally, Physically. Then you will be fine.... and most Important have faith always in God. Everyone will be going back when the time is right for you. Thank you!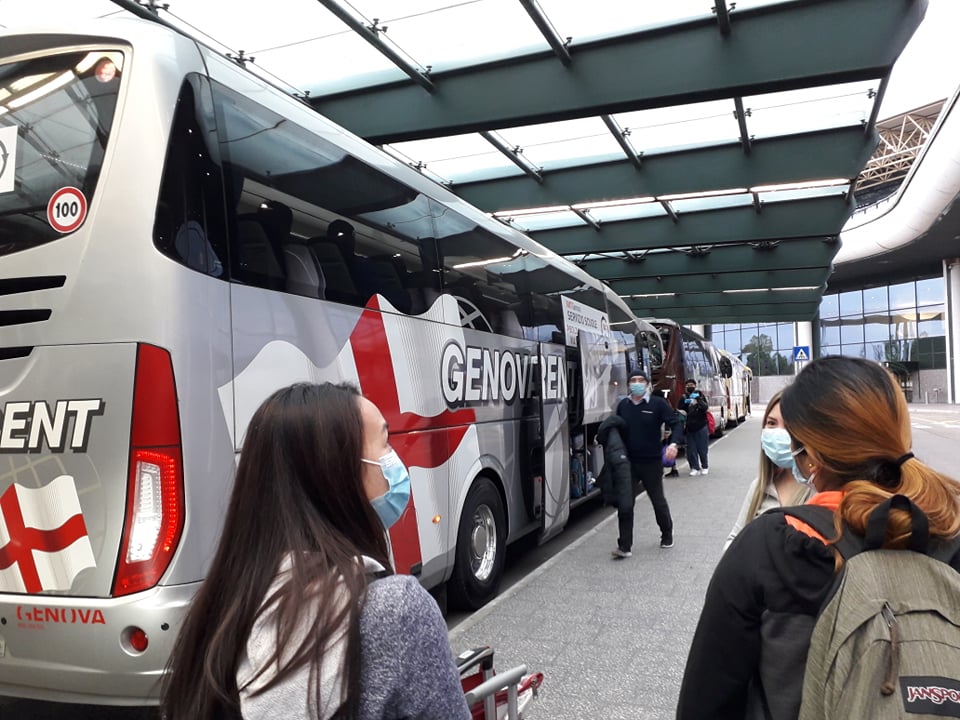 I personally want to thank all who helped out by sharing their story. This contract will be the most challenging one, both physically and mentally. So always remember why you are on the ships, for your loved ones, for your dreams to become reality. Crew members are the toughest people in the world and you have proven that last year. This will be a new chapter in your life and it's up to you to write it with capital letters.