New Guinness World Record: The World's Largest LEGO Cruise Ship Revealed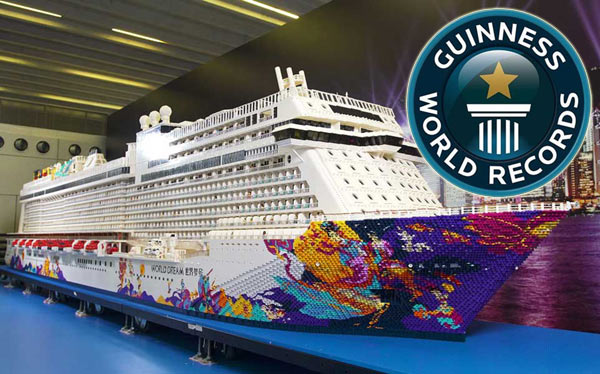 It is official, the world's largest cruise ship replica made with LEGO blocks is Hong Kong's Dream Cruises vessel "World Dream".  The world's largest cruise ship replica was constructed in two months using more than 2.5 million LEGO blocks, with the help of LEGO certified professional, Andy Hung and some 1,000 volunteers. The dimensions are quite impressive, It weighs over 2,800 kilograms (6,173 pounds) and measures 8.44 meters (27.7 feet) long, 1.33 meters (4.36 feet) wide and 1.53 meters (five feet) tall and has more than a thousand small Lego dolls as passengers.
The Guinness World Records YouTube channel has released a video of the world's largest cruise ship made of Lego blocks.
To find out more details about this record breaking feat please visit Guinness World Records website here.
World Dream replica was officially unveiled at Kai Tak Cruise Terminal. Kent Zhu, President of Genting Cruise Lines said: "We celebrate the first milestone achieved by World Dream – the successful breaking of a Guinness World Records title, an honor that we share with cruise enthusiasts from around the world who joined us as we turned this dream into reality."