Norwegian Escape Collides Into Dock in Civitavecchia
Several people have informed Crew Center that the cruise ship Norwegian Escape struck a pier in the port of Civitavecchia. According to our source, the allision happened on December 17, when the Norwegian Escape was maneuvering toward a dock when it made contact with the pier. The reasons for the accident and how the vessel deviated from its course are still unknown. Fortunately, there are no injured crew members and the damage to the ship's hull was relatively minor. 
We contacted another source for more details, who confirmed the crash saying that the incident happen on the way to the wet dock in Genoa and the ship needed clearance from the port authorities in Civitavecchia to set sail. The port authorities cleared the ship to continue its journey since there were no issues impacting the seaworthiness of the Norwegian Escape.
According to the ship-tracking website Marine Traffic, Norwegian Escape arrived yesterday morning, at around 9:30 am, at the port of Genoa for repairing the damage. Just as the ship entered the harbor, Andrea ROMANIN took the following photo and posted it on his Twitter account.
Norwegian Escape arrived today in #Genoa. Refitting or lay-up alongside? #cruise #shipping pic.twitter.com/bBHV5SKljW

— Andrea ROMANIN (@AndreaROMANIN1) January 8, 2021
As you can see from the photo there are some damages on the ship's hull as well as the signature art painting by the famed marine wildlife artist Guy Harvey. The damage can be seen on the starboard side, just above the sea turtle painting with strange rectangle scratches on the turtle painting itself.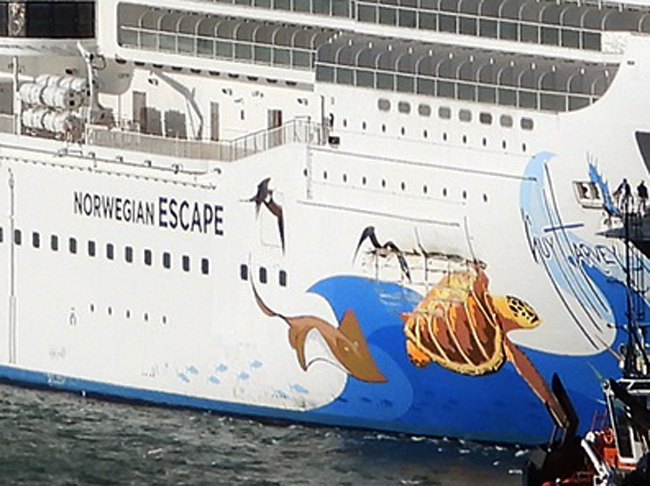 Photo credit: Andrea ROMANIN
Update: Since we published the article we received more details about the ship allision with the pier. The incident happen as the ship was exiting the port when it struck the edge of the concrete wall of the pier. The exact place of the accident is marked on the Google maps screenshot below.
The Medi Telegraph reports that the repair operation will be conducted by the San Giorgio del Porto shipyard in Genoa. The news outlet says that NCL needed to send the ship to Genoa after receiving authorization from the Lazio port authorities for repair works. The latest photo shows the close look of the hull damage at the moment of the incident.
 Another photo from the ship's damage to the hull after Norwegian Escape docked for repairs at the port of Genoa.