A Perfect Day at the Port of Cozumel
Whether you find yourself as a crew member or a guest aboard a cruise ship, the allure of Cozumel, Mexico is certain to captivate you. Undoubtedly, this enchanting destination stands as one of the most sought-after tourist hotspots across the globe, and its appeal stems from a multitude of compelling reasons. If your Western Caribbean cruise visits Mexico, chances are, you'll have a stop at the port of Cozumel – one of the major cruise destinations in Mexico. This popular port offers many activities and tourist attractions for families, whether you stay in the port area, book an excursion, or adventure off on your own.
Cozumel is an island off the Yucatan Peninsula in the Quintana Roo state of Mexico. There are many excursions, beautiful beaches, duty-free shops, and beach clubs, so you don't have to leave the island. Cozumel is located across from Playa Del Carmen and Akumal and is in the Caribbean Sea.
About Cozumel Port Area
Cozumel has several cruise ship docks; therefore, it can accommodate several ships. If you are taking a taxi ride, be sure to note the port you are at so you can get back. However, many taxi drivers will know which ship is at which port for the day.
The amenities at each port will vary, but they all have the basics. You'll be able to get a taxi to any of them. Unless you research in advance, you generally won't be told which cruise terminals you are docking at – just that you are visiting Cozumel.
Sometimes, you may need to take a tender boat to the port, but that is uncommon. Most ships visiting Cozumel will dock at one of the three ports.
The Mexican Peso is the currency in Cozumel. However, US dollars are accepted almost everywhere, so you probably won't need to change money. We recommend bringing cash for tips and cabs.
The Puerta Maya pier generally hosts Carnival ships. It has restaurants, bars, and shops, including the usual cruise port staples like Del Sol and Diamonds International. The Puerta Maya cruise port has a website with lots of helpful information and a schedule of which cruise ships dock there.
The International Cruise Terminal hosts 40% of the cruise ships that dock in Cozumel. Cruise lines that utilize the International Pier include Disney Cruise Line, Royal Caribbean, MSC, and Celebrity. It also has duty-free shopping and restaurants in the Royal Village Shopping Center and is where you'll find the more popular cruise ship restaurants staples, like Senor Frogs, the Hard Rock Cafe, and Margaritaville.
The third cruise terminal is the Punta Langosta, which is closest to the main city of San Miguel de Cozumel (also the largest city). It also offers a shopping area. Cruise lines that utilize the Punta Langosta pier include the Norwegian, MSC, and Holland America.
There's enough to do at the port that you could definitely stay in that area. If you plan to take a cab, you'll want to follow the signs for the cabs carefully.
Things To Do in Cozumel
Want to do something within Cozumel but beyond the cruise port? There are lots of options. You can choose to book an official shore excursion or do something on your own.
The official shore excursions offered by the cruise line are generally available to book in advance and do sell out. These can be the best for your peace of mind because the tour operator will ensure you are back on the ship in time for departure. If you are on your own, you'll have more flexibility but have to be responsible for getting back to the ship in time.
All the cruise lines offer shore excursions, but the options will vary by ship, but some options include ATV rides, the Mayan ruins and archaeological sites (San Gervasio and El Cedral), dolphin encounters, snorkeling, and a tour of the Mayan Cacao Company. Availability for kids may vary by age.
If you are a crew member and working on board the ship that visits Cozumel, feel free to explore the tour options for crew members when you have some time off. If your working schedule on the ship is really tight(like mine used to be), you can stroll around the port and visit the nearby shopping center, where you can find various cheap and good items. On the other hand, there are many cafes and restaurants where you can have a fast internet connection, so you can call home or chat with your family and friends. If the ship is staying overnight in the Cozumel, ensure you don't walk alone outside at night and do not carry expensive stuff with you. Cozumel is a relatively safe place due to the large number of tourists, but precautionary measures are always welcomed when visiting this beautiful place.
Another popular tourist destination is Chankanaab, an adventure park. It offers a beach, animal shows, snuba, swimming with dolphins, a spa, and more. It's one of the best places to visit in Cozumel. If you are a crew member, just show them your crew ID, and they will give you some discounts for their entrance and food and drinks.
Beach Clubs In Cozumel
When you visit the Caribbean on a cruise, you would usually want to visit a beach. The beaches in the Caribbean are absolutely amazing, and there are some fantastic options. You'll usually see beach breaks included in the official excursions. They often include transportation and lunch.
For your trip to Cozumel, you can decide to book a day pass at a beach club. Two options are the best ones, Mr. Sancho and Nachi Cocom. Both require you to book directly with them, and you'll need to take local taxis on both ends of your trip. They are about 15-20 minutes from the cruise ports.
Mr. Sancho's
Mr. Sancho's is a private beach club offering an all-inclusive experience. Reservations are accepted in advance and are highly recommended. With the all-inclusive pass, you can eat from the buffet, receive unlimited drinks, use beach loungers and umbrellas, and use lockers and restrooms. Other experiences are available for an additional cost, including massages, entrance to the aquatic park, horseback riding, and more.
Guests visiting Mr. Sanchos should bring pool towels from their ship. Otherwise, they are available for an additional rental fee.
Mr. Sanchos is very popular and can get busy when many ships are in port for the day. It's definitely recommended that you book in advance.
Nachi Cocom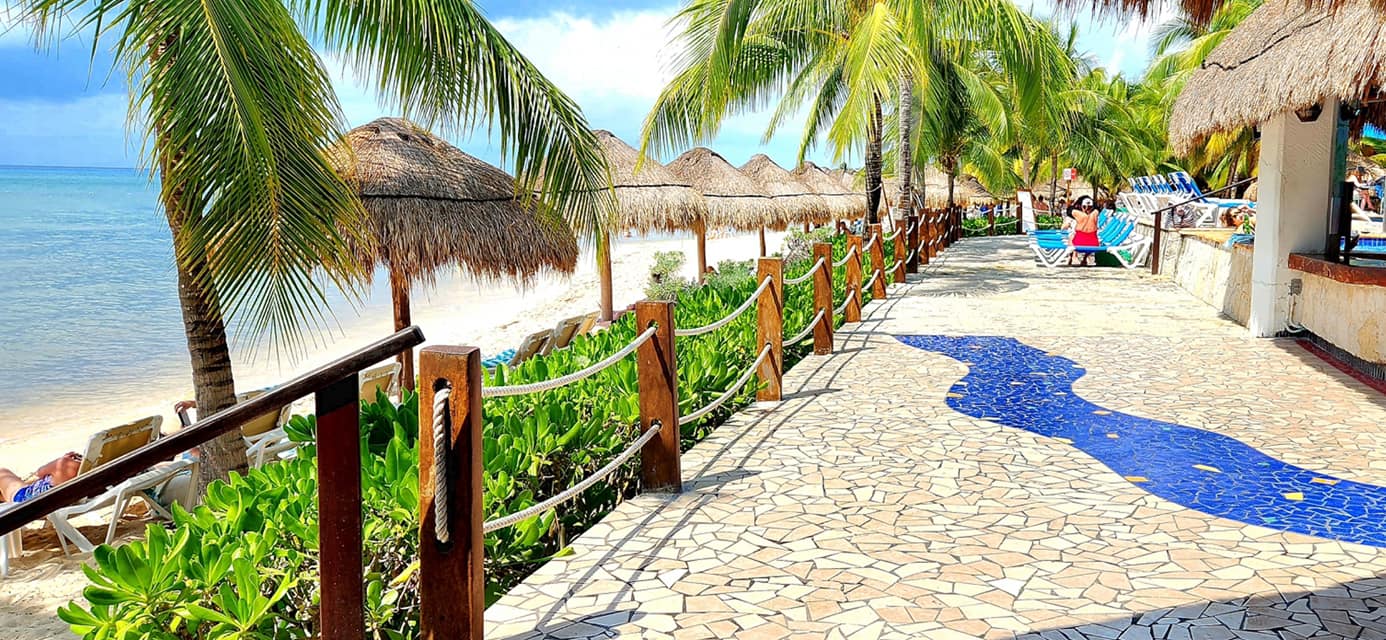 You will love this experience and should visit Nachi Cocom on your next cruise stop in Cozumel.
Nachi Cocom only accepts 130 guests daily. Because of that, it never feels crowded. However, you will want to reserve as early as possible. Many cruise ship passengers are often in port, so things book quickly. You'll leave a deposit with your reservation and pay the balance once you arrive (credit cards are accepted). This is the perfect destination for something quieter and a secluded slice of Cozumel Paradise.
Cozumel is a beautiful, bustling port of call with plenty of activity options.
It gives you endless opportunities to spend your day in one of the most beautiful and undoubtedly one of the busiest cruise ship ports in the world.
While working on the ship, I rented a Jeep whenever I had a day off and enjoyed strolling around the Cozumel with my friends. Renting a car could be one great way to explore the place thoroughly; just remember to have fun responsibly and stay safe all the time.