Q&A Session: Staying On Board Vs. Going Home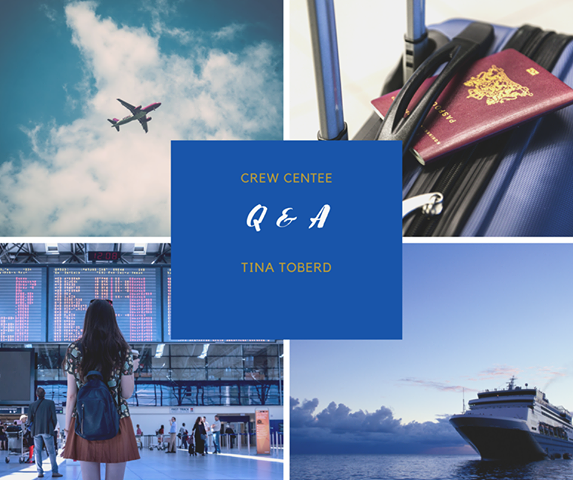 Dear Crew, whether you are at home battling through daily tasks, trying to cope with our new reality or still on board, trying to keep sane and healthy, - we are here for you.
Crew Center keeps its hand on crew-news pulse and does an admirable job at helping/supporting whoever we can.
Tina Toberd project amongst other support/coaching centers offers various supportive articles, projects, personal counseling that the crew may benefit from.
We are in this together.
We'd like to address some of the top questions that current crew might be asking themselves. We hope we can help you to gain some clarity and provide you with support you need.
Q: Should I stay on board?
If our company offers us a possibility to stay further, we need to evaluate our situation from a number of aspects:
• Self-care (Do I feel well on board? Am I taken care of? Will I be able to take care of myself, if situation gets tougher?)
• Financial matters (Do I have enough money to travel and for any unpredictable situation that might happen on the way? Do I have a possibility to come home and be fine until my contract resumes?)
• Moral responsibility (Will myself, my family, loved ones be okay with me being gone for much longer?)
• Governmental measures (Is my country still accepting flights? Are the borders still opened for citizens to return home? What measure is my government taking when people arrive from abroad? Can I fully comply with them?)
• Health-care (How is my immune system? Am I fit to travel? Will I be okay if, God forbid, I encounter COVID-19? Are there any elderly people or people with weaker immune system that may be truly in danger, in case I am home having coronavirus?)
• Self-isolation (Is there a place I can stay for 14 days after arrival with as little human contact as possible, - to be safe and keep others safe)
• Extensive wait (If I stay on board, will I be fine if my company does not resume its activity for much longer? How long for can I stay onboard calm and patient?)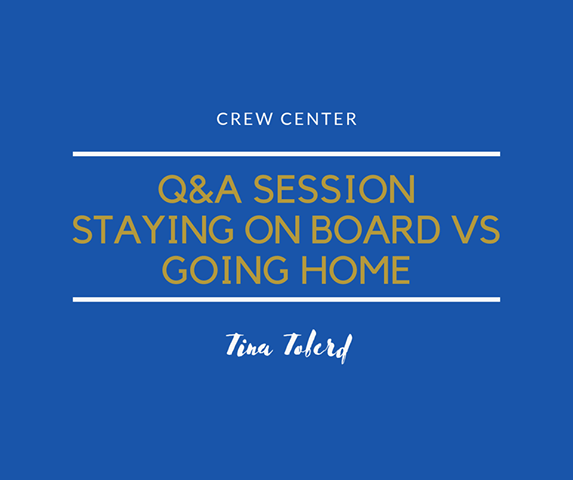 At the end of the day, we need to make decisions on our own. Whatever we decide – is the right thing and we need to believe that truly. Once decision is made, let's stick to it and do whatever is needed to make things happen.
Q: What if I want to go home?
If we decide to go home, having considered everything mentioned above, we still need to be ready for a number of things and have an understanding that we are ready for them and know how to act.
On the way home we may encounter:
• Unexpected/force majeure situations
• Unexpected expenses
• Unexpected waiting time/delays
• Unexpected governmental measures
• Unexpected medical emergencies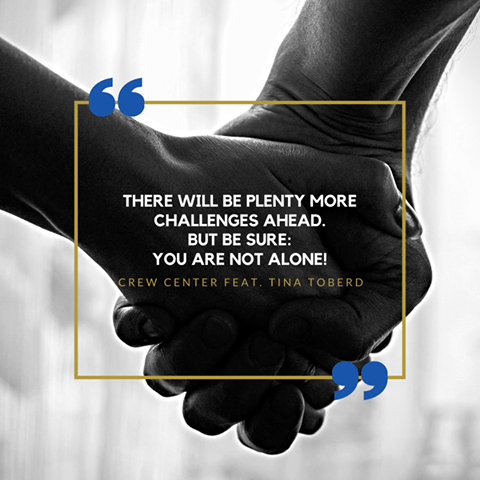 Even if we do not encounter anything unexpected, we still need to have all information available prior our travel, such as:
• Our company's contact number (possibly, emergency number)
• Our embassy's number in the country we are traveling from
• Emergency services number of a country we are traveling from
• If in transit, our embassy's number of the stop-over country (countries)
• If in transit, emergency services number of the stop-over country (countries)
Let's make sure we are well aware of these numbers. Let's make sure our family or friends are aware that we are travelling back home and ask them to check on us during our travel time.
Q: Is it safe to travel?
We have to face the fact that the entire world is infected – some countries more than other. But airports and public places are points of higher vulnerability, so we need to stay extra careful.
The measures, whilst travelling are the same as being out in public: face and hand protection, hand washing and disinfection as much as possible and, of course, 2-meter distance from people (unless it is our travelling companions).
Q: What if I bring COVID-19 home with us?
We have to understand that it is possible. But we also need to understand that there is a 99%  chance that we will be perfectly fine – that we will survive coronavirus. A quick recap of measures to be taken in order to get through and/or avoid COVID-19 as easy as possible from one of the leading European specialists, Dr. Peter Apinis:
1. If we have a chronical medical conditions and/or ongoing sickness, we need to keep them in check with proper measures (diet, medication and anything else prescribed by our doctor)
2. Keep active, - physical activities will help our bodies to boost our immune system. If there a possibility to do in fresh air – even better (it can even be next to an opened window).
3. Training our chest by doing breathing exercises. It is preferable to do them daily – this will help both prevention and treatment of coronavirus.
4. We should not cough, sneeze, shout, scream at others (let's be careful with our air supply steaming). We should maintain physical distance of 2m away from one another of in all public places.
5. If a medical advice is needed – take it only from trusted professionals.
6. Avoid excessive alcohol intake. Alcohol mutes our body's natural defense mechanisms and opens more possibilities for the virus to affect us.
7. Try to avoid or at least limit smoking, - as the virus heavily affects our breathing channels, we have a much better chance of resisting the virus and/or getting through it easier, if smoking is stopped.
8. Whenever exposed to public, always wear mask, rubber gloves and glasses (for eye tissue protection).
9. Proper and consistent disinfection of all surfaces at home (or at work).
10. Constant and proper hand-washing with additional disinfection, when possible.
There is also an article on both Crew Center and Tina Toberd Facebook page on how to deal with COVID-19 if it is actually encountered.
So have no fear, dear Crew, but please be cautious.
Whatever decisions you need to make – do so and be sure they are correct.
There will be plenty more challenges ahead, but you are not alone in this.
We will pull through.
Stay safe, travel cautiously and keep calm!