Coast Guard searching for a 32-year-old passenger who went overboard from Carnival Valor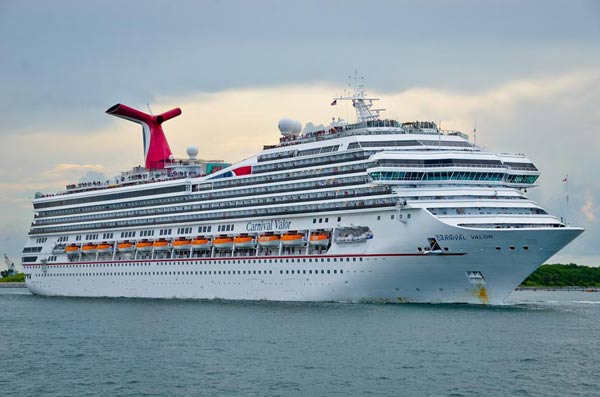 The US Coast Guard is searching for a missing cruise ship passenger in the Gulf of Mexico approximately 150 miles offshore Southwest Pass, Louisiana.
Rescue crews have launched a search and rescue operation for a 32-year-old African American female, who went overboard from the cruise ship Carnival Valor. Watchstanders at Coast Guard Sector New Orleans received a call from the ship's crew at approximately 3 p.m., Wednesday reporting a passenger on Carnival Valor went overboard. The watchstanders directed the launch of rescue crews deploying Ocean Sentry and a medium-range Jayhawk helicopter.
A passenger sailing onboard Carnival Valor released the following video on Twitter, showing that a life ring was seen floating empty in the water and flare thrown in by the crew, to mark the MOB location.
Life ring off the stern of Carnival Valor after man over board in middle of the Gulf of Mexico pic.twitter.com/4HdAjMzjt8

— Johnny (@johnnytrupp) February 16, 2022
Several passengers reported the incident on social media, some of them stating that the woman  jumped from the upper deck after an argument with a man in one of the ships hot tubs
"When she jumped off, she apparently hit her head on the side of the boat. And, then she hit the water face first," said a passenger for WAFB9.
Someone just jumped off the cruise I'm on, crazy pic.twitter.com/BDG32qdzZS

— Johnny (@johnnytrupp) February 16, 2022
Carnival Valor was en route to New Orleans from Cozumel, Mexico when the woman jumped into the water from her balcony, Carnival said in a statement. 

"Carnival Valor is supporting the search for a guest who reportedly jumped overboard from her balcony on Wednesday afternoon while the ship was at sea. The ship's command immediately began search and rescue procedures, returned to the area near where the incident occurred and notified the U.S. Coast Guard.  Carnival's CARE team is providing support to the guest's husband who was traveling with her."