Crew Member Reports, NCL Fires Many Indian Employees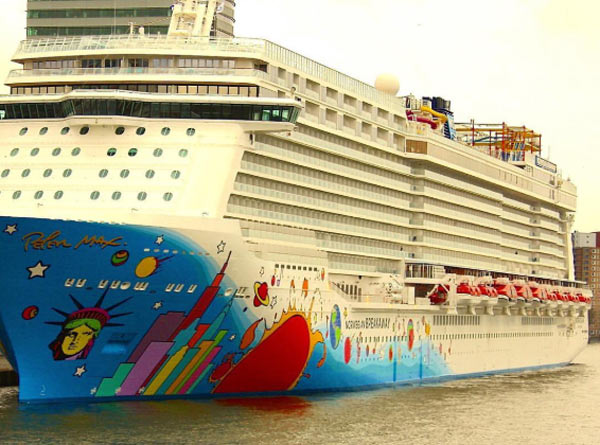 A crew member wishing to remain anonymous has sent us a message claiming that many Indian employees working for Norwegian Cruise Line have been fired by the company. The crew was terminated from their working positions after they finished regular contracts and without any particular reason received a letter by NCL  thanking them for their services. The crew member has sent us a copy of the so-called "Thank You Letter" signed by the Fleet Talent Management, which says:
"This letter will serve to inform you that, effective immediately, Norwegian Cruise Line Holdings no longer requires your services.
If you have any questions please feel free to contact me by email... or by phone.
I would like to thank you for your years of service to Norwegian Cruise Line Holdings, and wish you the best in your future endeavors."
The letter doesn't explain the reason why crew was terminated from employment. The crew member says that he doesn't know the exact number of fired crew, however at least 10 people he knows received this letter. They are fooling the crew after finishing the contract, even give them rejoining letter for next ship contract after which they receive the "Thank You Letter"
 "It's very sad to inform from Indian Crew, whoever is coming for vacation they are receiving a thank you mail for NCL, stating thanks for your years of service with NCL, we think it's very unfair with the Indian crew who give all their hard work and energy with their Precious time to NCL for their future lifetime, all working crew who have plans, home loans, and their families depend on them. It's very heartbreaking to hear from our brothers these shocking news." The crew member says
He also explains that recently one Indian F&B director on the cruise ship Norwegian Breakaway was fired, and nobody knows the reason why.
Unfortunately, crew member's employment is based on contracts which they receive each time they sign-off the ship. The cruise line is not obligated to issue a new contract only if they are not satisfied with the crew member's professional performances. Usually, cruise lines don't give a second contract for the first time joining crew ( new hires) who don't meet companies standards, and they receive a letter explaining why they are not re-hired. This was not the case with the Indian crew members. All of them were longtime employees for Norwegian Cruise Line and after serving many years for the company they received only a short "Thank You Letter".
Update: After we posted this article we received several messages by crew members and their families.
A wife of a crew member who was also fired from NCL says: "My husband who works in NCL ask for permission for extended vacation due to a family emergency but instead NCL close his file. Is asking for extended vacation, a valid reason to fire an employee who works with the company for 7years with good record?"
It seems that NCL has a quite strict policy when it comes to requests for an extended vacation. Another crew member contacted us saying he was fired from the company from the same reason.
"Worked 9 years with NCL with a good track record. My last contract was until Feb 2017 and after that, i was assigned to next ship due to family issues I have to extend vacation for a longer period and then they didn't rehire me even after trying for so many times.  Given my precious time and energy for ncl from 2008 until 2017" says the crew member.
" I'm utility galley and needed to join Norwegian Bliss on 8th of December 2018 and it changed to 15th of December and I didn't get my joining details yet. When I contacted my agency informed me that my file has been closed after a personal interview with my agency (kamakshi overseas) and I was very upset with the news so I tried to mail my admins, fleet personnel but I didn't get a single reply after mailing Norwegian's union I came to know that Norwegian is not going to hire me and then the same thanks message was sent to me" says one crew member who was fired while on vacation 2days before joining the ship.
"The same situation happened to me also. NCL has closed my file without any reason even I was trying to call their head office but their behavior towards me was very bad if I ask the reason they were not giving any reason ,we all put our hard works towards the company and finally they behave to us slaves even when I signed off from my last contract I did extra one more month because of short manning onboard .company only thinking about the growth onboard people's work like a slaves even nobody care about it" says another crew member.
"My last performance evaluation was excellent,I mean out of 5 i have always received 4-5 evaluation scores. But still, they send me email not contact NCL anymore they have put DO NOT REHIRE in there database. But no reason and no response if you ask for the reason."
A crew member who worked for NCL for five years also wanted to share his story "On my last contract i was scheduled for vacation on December 2017. But I requested the company if i can go home earlier probably last week of October because my fiancé and I are scheduled to get married by first week of December. Everything was set so I really have to go by October for us to be able to do some finishing touches on our wedding. I am quite confident that the company will grant my request because i have worked my ass off in the company for more than 5 years. Working hard without even getting promotion but i never complained because i love working for the company. And i even brought proofs that our wedding is set on first week of December 2017. But sadly, they didn't approved my request. I even talked to my supervisor and even the f&b director but they told me that they can't do anything. What I need to do, according to the f&b director, is that i file a resignation letter and i have to pay for my own ticket. That is bullshit for me but i have no choice. I really need to go home early. I filed a resignation letter and booked my own ticket. Few days before i go home, they called me in the human resources office telling me that i have a schedule for a return on the company. I just don't get it. They asked me to resign and pay for my ticket but then they told me i have a schedule for a return. But i don't work with the company anymore. It just hurts thinking that i have gave all my time and energy, working blood and sweat but they can't even grant my only request. I guess they just don't want to pay for my ticket. I did not go back to the company. I am happy with my life now. I feel like a human now."  
An electrical engineer from Romania who was working for Norwegian Cruise Line says "Sadly I've been subject to a wrongful termination as well. Unfortunately is not only in NCL this kind of situations, in every company you can meet this kind of discrimination. It is very sad to observe that seaman status is very similar to a slave. In our days if you dare to say what you have on your mind, if you don't play along their rules which sometimes are unfair and favor some you will get fired immediately. It is wrong and unfair and it becomes a practice, each company being free and not forced by any regulation to value and respect their employee. In each company there is a group of individuals who are taking the laws and regulations in their hands and nothing can stop them to do what they want whenever they want. This is modern slavery and due to the fact that everywhere is required references the fear of losing your job, the humiliation, the bad treatment of the managers the closed groups on board make the life of isolated crew a living hell."
Another crew member who was working for the company for 19 years says "I was sent home for heart problem but after i did all my examination nothing wrong was found and the company after 19 years working with ncl send me a check for the time that I work for I ask then why no more contract for me and they told me that the company decided not to employ me anymore that no fear after i give all my life to NCL."
But not all agree that some Indian crew members were fired without any reason. This is a message sent by one crew member saying "Just to inform you some of the Indian crew on high position are acting like they are owners of the company. They treat other crew members bad, and I am sure that the crew started to complain to the office. NCL didn't fired people just like that without very very good reason. This is just to help you see the real truth and investigate better. I don't have a problem with any nationality, and even one Indian guy help me a lot and help me get promoted."
 Are you a crew member? Do you have a story to share? Please send us an email here.