Crew member's cruise ship ports experience
The positive side of the job is the travel, of course. We visited lots of cities because the ship is always ported somewhere else. 
If you had free time, you could get off the ship and go anywhere you want, as long as you return on time for work. We were cruising through the Mediterranean until the end of October, we had fourteen-day cruises in ten cities. You can usually experience cities since we had three-hour break. We used that time to have a meal and coffee, walk around a little, or we would just hop on a tour bus and go through the city. My favorite place in Europe was Mykonos. Actually, I loved the whole of Greece. I prefer the smaller seaside cities because I had no interest in the big ones.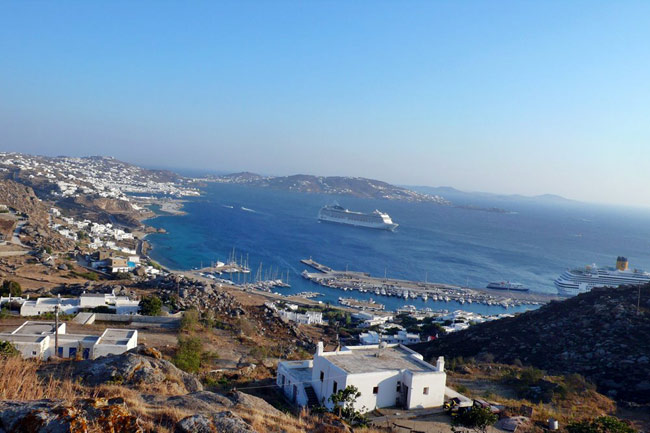 I love smelling the sea, to have that sense of freedom. I've been to Civitavecchia (a port in Rome) three times and each visit was better than the last. When it comes to the big cities I loved Barcelona, Naples is great for shopping, Lisbon has a unique charm, as well as Ponta Delgada where we all gathered and had an amazing lunch. 
The city is beautiful, the buildings are white with black stripes all around, a true artistic city that I really enjoyed photographing. Most people, of course, prefer sailing through Europe. You are close to home, most things are familiar in a way, there is free Wi-Fi everywhere, it just reminds everyone of home. I rarely traveled a lot for the past five years working on cruise ships.  I got to see Dublin and try the original Guinness. That day all of us Serbians got off the ship at the same time and we took a photo with a Serbian flag in front of the bar where we had the Guinness.
Dublin is gorgeous and the people are so relaxed, no one pays much attention to the tourists. We also visited Cobh Harbor, the last harbor where the Titanic was before it sank in 1912. We made jokes about this harbor and that something similar doesn't happen to us. It is a small town, full of trees and green spaces, with wide streets and one main street where all the bars and restaurants were. There is also a big cathedral and a few stores. We walked around a bit, had a coffee and bought a few souvenirs. The next city we visited was Lisbon, a place where I definitely want to revisit. A seaside city with a lot of beautiful buildings and cathedrals. It's huge and spacious but it sort of feels like home. 
Hawaii and Tahiti and those are two of the most beautiful places that you could ever visit. The beaches and hotels are divine there. 
Tahiti was special because all the trees and grass and water can only be found there, and it was so different than any other place in the world. Everything is so free and wild and magical in away. It really was an amazing experience to be there. The Sun shines so brightly in Tahiti that I burned all over and I was completely red.
Everything is so simple there, nature looks intact and wild and it can survive humanity for at least another thousand years. Bora Bora has beautiful beaches and excellent diving places, you can swim with rajas, etc. The underwater world is exquisite but also very exotic. That means it's more expensive and it costs a pretty penny to travel there. Moorea Island is even more beautiful than Bora Bora. Fishing is among the best in the world because all the best species can be found there and the island itself is much more urbanized then Bora Bora.
Rangiroa Island is a story of its own. We were taken there with lifeboats (so-called tender boats) because the ship could not dock near the island. In the front and on the left side of the island the water was so calm it almost looked straight like a mirror. There was no wind, all along the coast were small hotels and bungalows, everything looked perfect, almost like a picture. You had to take around a way to reach the point where the island divides into two parts – the left and the right. 
The right side is the complete opposite of the calm and gorgeous left side – the sea was restless here and it slammed into the rocks hard and created the most amazing shades of blue. Unbelievable, just a ten-minute walk and I entered in the whole other world. I was fascinated.
I drank coconut milk and tried the inner parts of the coconut and I swam in the very salty water. A few smaller sharks were swimming around and I got out of the water because the fishermen were throwing some fish parts and I didn't want the sharks to mistake me for dinner.
I ran into a few colleagues there, we took some photos and had a few cocktails. It really was one of the most beautiful days of my life. We spent the night there because there was a big party on the other side of the island the next day. We used the fishing boats this time and we had to wear life west, just in case. They were taking us to the part of the island where our other colleagues already brought everything for barbecue, lots of beer and other drinks. 
They put on a volleyball net and we played in teams because all other crew members were here –bar crew, restaurant crew, casino crew, musicians, etc. This was a gift from the Hotel manager for a job well done.