"For Crew Only" Online Shopping and Special Order Requests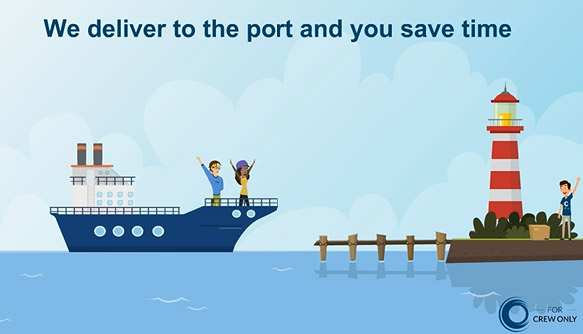 Shopping has never been easier for crew thanks to the services provided by the company "For Crew Only". Now you don't need to ask your supervisor for time off in US ports and run to the stores so you can do your shopping. All you need to do is go online, find the product you like to purchase and submit information (name, link, and price) at the following For Crew Only link. The friendly staff will look for the product and send you an email with information and quote. If you want to purchase the product, simply accept the quote and request delivery. There's only a small fee, but it's a good deal considering the money you will spend on taxi from the pier to downtown. Plus you don't need to stress about memberships and other hassles such as getting back late on the ship. And that's it, you don't need to worry about delivery because they will deliver your products to the port and you save time.
For Crew Only delivery services are available at the following ports: Miami, Tampa, Canaveral, Seattle, Southampton (UK), Copenhagen (Denmark), Civitavecchia (Italy) and Barcelona (Spain). So if your cruise ship arrives in one of these ports your packages will be delivered next to the pier. Their services include Package Delivery, Crew Only Store, Package Shipping, and Special Requests.
You can check out the video and find out how does Crew Only's Special Order Request service work.

To find out more about all crew services by "For Crew Only" press here.
For Crew Only is a U.S.-based company created exclusively for you, the hard working crew on ocean-going cruise ships with the sole aim to simplify your lives, give you time back in your busy schedules and provide you with an easy to use booking tool with access to an array of shopping items that cover your day to day needs.