Crew Stories: The Last Night Of My Contract - Hard time from Supervisor and Disembarkation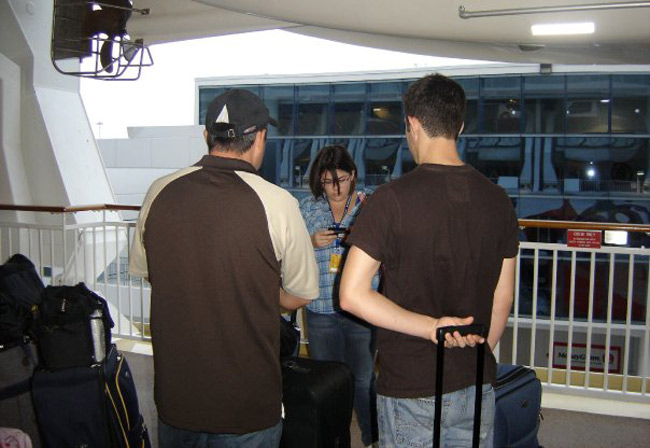 The Last Night of the contract with Princess Cruise line. A slightly uncomfortable situation occurred on the last day. My Supervisor from the  Philippines didn't allow us to finish our shift slightly earlier which was the regular practice in Princess Cruises for day before you disembark. The last shift should end at 9PM so you have time to pack and take your bags to security so they can be scanned overnight. After that you get dressed up a bit and go to the Crew Bar to have a drink with everyone. The Supervisor held us there until 10 PM and didn't allow us to finish earlier. He wanted to keep us there even longer but I contacted the Bar manager to complain about the whole situation. The anger that was on the face of the supervisor older was beyond words. He was literally boiling with anger and talked and commented so loudly that I had to yell "Please lower your voice, I can't hear the Manager because of your screaming". 
I learned that he called the Supervisor and told him to find a replacement for us because we should finish earlier. 
I gave the phone to the supervisor and just waved at him and explained that I was leaving. My colleague asked, "Are you sure y can leave"? I replayed "The Bar manager said yes so let's go woman, we have to pack and get ready, we won't have time for drinks in the Crew bar."
With both of us in the same cabin, packing our suitcases was almost impossible. When one of us opened the closet and pulled her suitcase out, the other didn't have the space to turn around. We devised a plan – while one of us is packing the other would go have a bath.
Unfortunately, there was no way to finish the shift earlier on your last day. 
No one cared about the fact that you had to pack and get ready for your flight, and the philosophy was "You're here so you might as well work before you have to leave".
The Bar manager invented some event and said that I have to go and greet the new guest. I had to work for one hour on the morning of my flight. I did my best to stay calm because I was convinced that he made that story up just to provoke me. I finished that as well as the morning duties that we always had when old passengers leave and the new one's board. That is a twelve-hour shift every time. 
At 9 AM we have a Bar meeting where we get all the information about the new passengers, lists of drinks that we have to put in the cabins, two to three people are assigned to each deck and we try to finish everything as fast as we can. 
After all that I had to return my uniform to the tailor, fix my cabin, remove my sheets and put new ones for the next crew member who will stay in that cabin and leave everything in the best possible order. After all the paperwork is signed we get off the ship, get our passports back, get on the bus to the airport and then we feel freedom again.
I have never been so tired after this contract. I needed a weeklong vacation, just to sleep and eat better food so I could start functioning normally again. 
That first contract was additionally hard because in the four months that I spent there, two people died. The first one was a young guy, a fitness instructor.
It was a horrible moment for everyone, even those who didn't know him. The other person was none other than the Captain. He always wore dark shades, he was thin and didn't talk much. During Antarctica season, he would always remind us about warm clothes so that we don't get sick. There really was something strange about this ship. It's called the Quest, it gave me the chills and I really didn't want to return for another contract here.
Are you a crew member. Do you have a story to share? Please send us an email here >>>