Crystal Cruises crew to return home after the luxury cruise line suspends all sailings through April 2022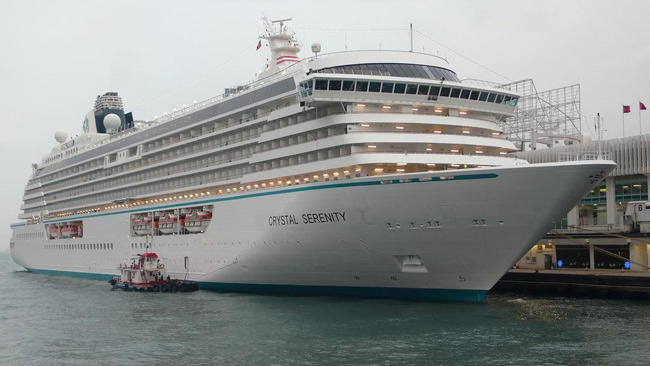 After the bankruptcy of the parent company, Genting Hong Kong, Crystal Cruises announced it will temporarily cease cruise operations. The luxury cruise line is suspending all cruises aboard its three ocean going ships currently in service through April 29, 2022, and river cruises are suspended through the end of May 2022. After completing current voyages the crew will be sent back home and the vessels will be placed in lay-up.
In a letter sent to the shipboard employees, the company said that they are working on details of laying up the three ocean going ships after conclusion of their current voyages. Crystal Cruises is working on plans and timing to disembark the crew and return them to their home countries.
In an email addressed to the crew Crystal President Jack Anderson said "From the bottom of my heart, thank you for your tireless dedication and devotion to Crystal and your understanding in this very difficult situation. You are the heart and soul of the Crystal Family. We look forward to returning to the world's oceans and rivers later this year"
Crystal's three ocean ships currently in operation - Crystal Serenity and Crystal Symphony sailing in the Caribbean and the new expedition vessel Crystal Endeavour in Antarctica - will complete their current voyages before sailings are suspended. Crystal Symphony's current voyage ends in Miami on January 22, Crystal Serenity in Aruba on January 30 and Crystal Endeavour in Ushuaia, Argentina, on February 4.
Passengers currently sailing on Crystal's ships were informed that the company is working on plans to bring them home at the end of the current voyages.
"This was an extremely difficult decision but a prudent one given the current business environment and recent developments with our parent company, Genting Hong Kong," Jack Anderson said in an emailed statement. "Crystal has been synonymous with luxury cruising for more than 30 years, and we look forward to welcoming back our valued guests when we resume operations. We wish to thank our guests and travel advisors for their incredible support during these ongoing challenging times."