A day in the life of a Shoppie on Cruise Ship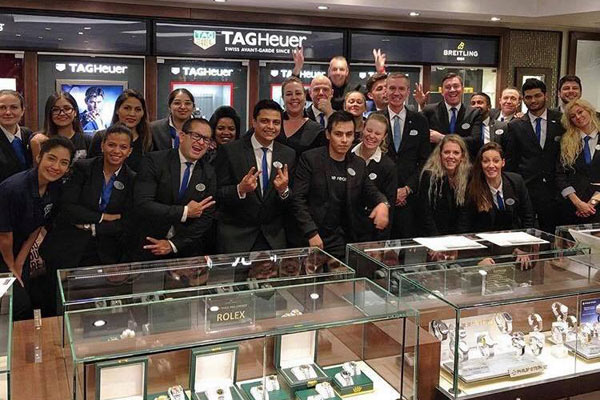 Shoppie or sales assistant schedules vary depending on the ship you are placed, the management you work with and the store you are assigned. My day in the life of a Shoppie is based on a typical day on Royal Caribbean - Harmony of the Seas.
A standard port day is a bliss for a sales assistant. Most people know that on-board shop staff doesn't work whilst in port as the stores can't open due to tax laws.
You have pretty much all day free to explore, eat, drink, Wi-Fi and sleep. 
You usually begin work an hour before the ship sets sail in order to attend a team meeting. Team meetings discuss targets, events we are planning for guests and any updates from management. A typical port day would begin at around 5pm-6pm and the stores were set to close at around 11 pm but could sometimes stay open until 12 pm onward depending on guest demand. As shifts on port days are short you don't usually get a break. 
Sea days are a completely different story. 
You would usually begin a sea day at 8am-9am with stores opening between 9am-10am. During sea days Shoppies are encouraged to promote events such as 'Guess the carat weight of the diamond' and 'Liquor tasting' in order to get guests to visit the stores. 
The first break lasts around 1 hour with the break schedule:
11am-12pm/12pm-1pm/1pm-2pm.
The second break lasts around 2 hours with the break schedule:
5pm-7pm/6pm-8pm/7pm-9pm.
Uniform changes depending on the time you are working. A more formal wear with suit jacket or blazer must be worn after 6 pm on both port days and sea days. Sea days before 6 pm are usually more casual with either a shirt (without jacket) or t-shirt. Some ships also require Shoppies to dress in a dress/suit on formal evenings.
Regardless whether it's a port day or sea day your duties as a Shoppie include cleaning/sanitizing, setting up event tables and displays, re-stocking and most importantly - attending to guests.