Disney Cruise Line Crew Members Update
Disney Cruise Line crew member sent us the following message addressed to his fellow crew members and to their family and friends who are waiting for returning home of their loved ones.
Disney Cruise lines is in process of repatriation some crew members home from several ships, Disney Dream is in Florida,  disembarked some of crew members from several European nations such as Romanian, Croatian, Serbian, leaving the United States via a charter flight from Miami International Airport, while Disney Fantasy is on her way to repatriate her crew members directly to their home country, mostly from several nations in the Caribbean and Central America, and many of Caribbean such as Jamaicans remain on the ship due to unsuccessful negotiation between Disney Cruise Line with the Jamaica Government. Disney Magic is on her way to the United Kingdom (port of Dover) to repatriate some crew members home. Not including some crew members from several countries who are not the majority of the crews, such as China, Japan and more, so these crew members they seem to be forgotten.
Disney Cruise Lines asked their crew members not to wear clothes or use luggage with Disney Cruise Lines logo on it that could identified by the Media as a Disney Cruise Lines crew member, in case of misbehaving during process of repatriation. 
All 3 DCL ships accept Disney Wonder have been sailing around without any cases on board, all crew members are well and healthy but crew members required to wear medical masks while the ship is in port especially on the open deck that could be filmed and published by the Media, but when indoors crew members are required to wear a red Pirates bandana (or handkerchief) to use as a face mask. Social distancing and mask usage strictly enforced, by having their officers roaming around pointing fingers on crews. The company refers to CDC guidelines to stop all public activities, despite the most people in America in some area going around freely without face mask, having said that,  if the company sincerely enforced these rules for benefits of their employees, why would the company ask crews to wear a Pirates bandana instead of medical mask which been repeatedly used, perhaps it's all about the costs and it's all about The 4Keys Basics: 
1. Safety(Maybe) 2. Show(yes) 3. Courtesy(Yes, to the company) 4. Efficiency(absolutely, yes)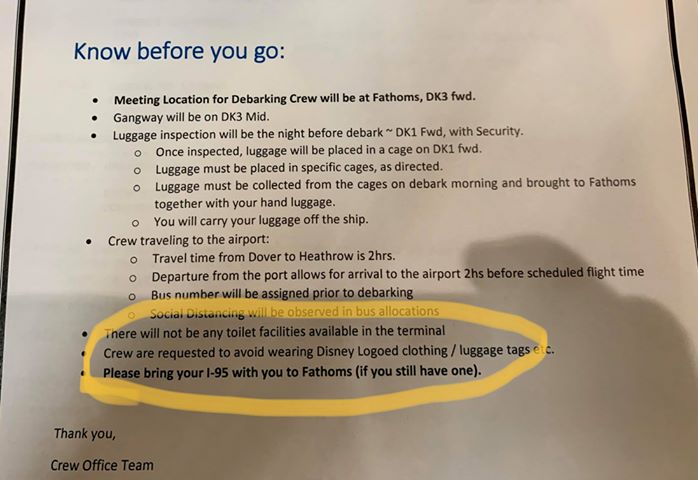 On Monday 18, 2020, Disney Magic is on the day at sea prior to arriving at Port of Dover, UK, announcement was made calling all South African crew members, to visit the Guests Services Desk to be informed that there will a charter flight scheduled for South Africa citizens but crew members will need to go online and pay for their own flight tickets which costs around $1,000 and who is willing to pay for the flight, decision must be made by 6PM, today (UK time) and when it came to the conclusion, all South African crews refused to pay their own repatriation costs, and angrily asked the company to take full responsibility of the costs.
On Disney Magic, there are flights confirmed for most Filipino crew members(which been canceled later on), European citizens, as well as Brazilian citizens on the next few days with no additional costs to those crew members. 
 At this time there are a lot of crew members on each Disney Ships who has finished their contract and they are no longer on the payroll, still stuck on the ship, many of them show some signs of depression and they are hoping the company to find the way to send them home, but it seems like Disney Cruise Line, still considering for the costs of repatriation of some nations. There are several nations that their airports still open but they did not receive any news from the company yet. And it seems to be the priority is the image of the company and benefits rather than get the crew members home safely. 
During normal operation DCL crew members created Magical experience for their guests, in this uncertainty situation, we believed most Disney Guests would rather love to see Disney Cruise Lines sincerely try their best to send crews home safely than seeing the company trying their best to protect the image and benefits of the company.
We hope to see our Magical time come back soon!