MSC cruise ship crashes into pier in Roatan, Honduras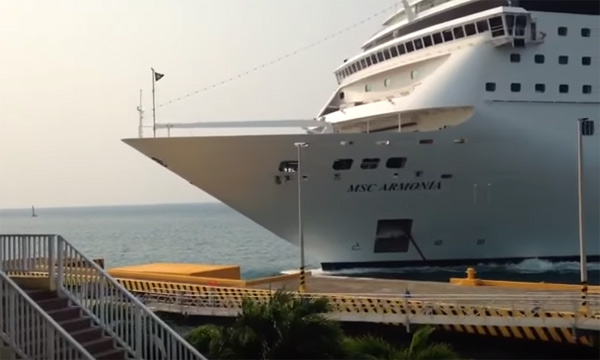 The cruise ship MSC Armonia had an incident and ran into the dock at the port of Roatan, Honduras today, April 10. A video of the incident was shared on YouTube by several sources shows the cruise ship allided with the dock, and briefly going aground on a beach just past the pier. 
Video from the collision shows that the ships port anchor was in the water as she approached. A video made after the impact shows that Armonia starboard anchor was also released at some point during the maneuver.  According to AIS ship tracking data, Armonia was sailing with a speed of about 11.6 knots on its approach but slowed to 8.7 knots as the vessel came closer to the pier.
Apparently there was a technical problem and they couldn't slow down the ship. The thrusters malfunctioned and they let down the anchors to help slow the ship down but without success.
Roatan Port Authorities Statement
Shortly after the crash, Roatan Port Authorities released the following statement: "Today, at approximately 8:00 am, the cruise ship MSC Armonia of the MSC Cruise Line Company collided to the pier while attempting to dock at the Roatan cruise terminal impacting our dock. So far the cause of the impact on the part of the ship is unknown.
Fortunately, there are no injuries or human losses reported. The measures given to the port infrastructure and the vessel are being evaluated by the experts in order to assist them as soon as possible.
At the moment the efforts of our staff are focused on assisting the ship, assessing damage and above all ensuring the safety of the approximately 1800 passengers on board. Puerto de Cruceros de Roatan will be reporting as more news is received."
"The damages has not been yet quantified by the company. We are in the process of doing that. The primary concern/key interest of all parties t this time is to be able to restore normal operations as soon as possible. For the remainder, there are protocols that we are following "Said Kenia Lima, president of the Board of Directors of Port of Roatan. She also mentioned that 'the company is not able to establish responsibilities immediately since these will be determined as appropriate by experts in the field. The important thing is that there were no human losses or damage to the environment, everything else can be repaired."
MSC Armonia is currently on an 11 night's round-trip Caribbean, Cuba and Antilles Cruise.