Oasis of the Seas 14 Crew Members test positive for Covid-19
14 crew members on board the Royal Caribbean cruise ship Oasis of the Seas have tested positive for COVID-19. The test results were announced today, March 28, through the ships' PA system and the crew is updated as to what's going on, including the latest updates and preventive measures.
For now the crew who have tested positive are to remain on board and measures are taken to prevent the virus from spreading. The crew who is in need of medical attention or guidelines is advised to use the phone to report any symptoms, rather than going to the medical facilities, as a precautionary measure to stop the communal spread of Covid-19.
The crew was advised of social distancing when leaving their cabins as well as follow sanitation practices. Today the crew was isolated in their cabins and await for further instructions by the ship's authorities.
Oasis of the Seas is currently at anchorage near the Royal Caribbean private island Coco Cay, off the coast of the Bahamas. There are around 1650 crew members on the ship right now.
Update March 29: According to our source 43 crew members have tested positive for Covid-19 on Oasis of the Seas. All crew is now placed in isolation in separated guest staterooms. The crew must remain in their staterooms, and no visitors are allowed during the isolation period. Each person is in charge to maintain their room and keep it clean and tidy. Breakfast, lunch, and dinner will be served to the staterooms each day by the Food and Beverage department. No one is allowed to leave their accommodation without a specific order given by the Staff Captain or the Ship Doctor.
Update March 29: The number of crew who tested positive for Covid-19 is now 51 people.
We received the following message from a crew member onboard Oasis of the SeasI salute: To all the Medical Staff who are really taking good care of them they are really hands-on when it comes to this kind of situation, unfortunately, they can't provide proper PPE for the rest of the Crew Members who are not infected with the virus, if you ask your Department if they still have a spare face mask the supervisors will tell you "if you are going to work, WE WILL ABLE TO GIVE", most of us are not working anymore they cut the manpower because they can't afford to pay our salary so we are called a non-working crew member, our main concern here is that we need to be provided of the ff. face mask, alcohol, sanitizers each and every crew member that is still onboard to avoid this COVID19, this is our humble request to all the Management. WE ALL WANT TO BE SAFE."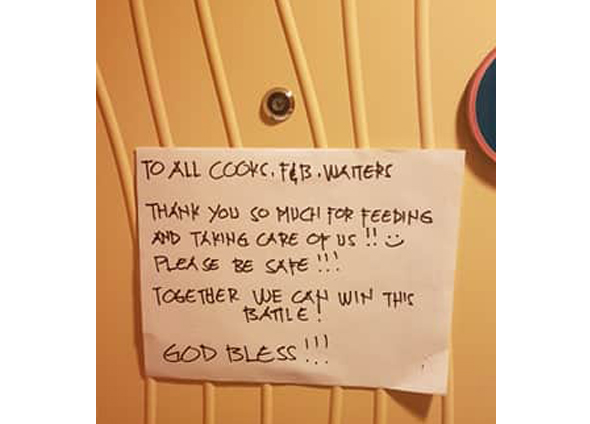 A crew member has sent us this photo with a message of appreciation for all the chefs and waiters onboard Oasis of the Seas, who are taking care of the rest of the crew who are in isolation