Pizza Delivery on Carnival Cruise Ships Please Tip Your Delivery Person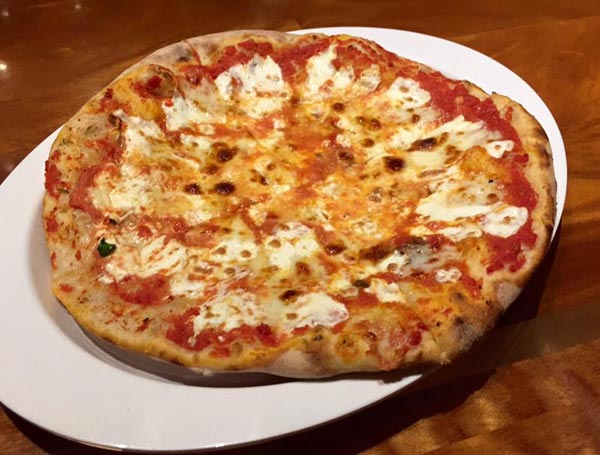 Carnival cruise line announced it is expanding the number of ships on which guests can order pizza by using the Hub app to order a pie. First introduced on Horizon and Vista, this extra service is now available on Carnival Conquest, Breeze, Dream, Victory, Magic, Conquest, Sensation, Glory, Ecstasy, and Liberty. The Pizza Anywhere delivery service is a good idea allowing guests to place an order on the app, and have it delivered anywhere on the ship. Pizza delivery service is quite convenient especially if you enjoy a nice sunny day on the lunge by the pool and don't feel like waiting in line at the Lido Pizza station. Guests can order one of the following pizzas Pepperoni, Margherita, Funghi, Prosciutto and Quattro Formaggi, for which they will be charged $5-per-pie to their account, and additional place on the app to add a tip.
Carnival Pizza Anywhere delivery service was announced in September by John Heald, Brand Ambassador and senior cruise director of Carnival Cruise Lines saying:
"We are testing Pizza Delivery via the Hub app here on Carnival Horizon. You can order freshly made pizza from the pizzeria on Lido and have it delivered anywhere on the ship from your cabin to your chair on Lido while watching a Dive In Movie.
The pizza is free of course and it costs just $5 delivery plus a wee tip if you feel you want to buy as always that's up to you."
Now the hot topic of tipping. Should you tip the pizza delivery guy/girl or not?
It's Customary in the USA to tip the pizza delivery person and since the majority of the guests sailing on Carnival Cruise Line are Americans this will not be an issue. However, some people will say that this is included in the price of the cruise and on top of that there is a $5 charge. How many more extra nickles and dimes will the company squeeze out of the guests? But looking from the other perspective this is for the guest convenience not to stand in long line for 30 minutes to get pizza. Plus Carnival will not hire additional staff to cover only the pizza delivery service. Instead, the waiters and F&B servers will perform this task while at the same time working at their section on lido, and room service. Therefore the limited team will be stretched all over the place. Just remember tip is a sign of appreciation for hardworking servers always going a step forward so you can have your perfect cruise vacation.