Queen Mary 2 Wins Transatlantic Race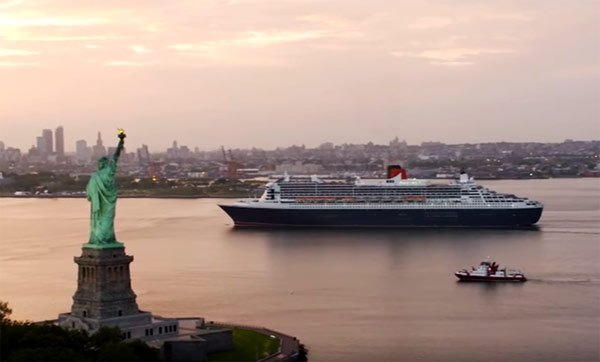 Queen Mary 2 has arrived in the Big Apple on Friday morning. Cunard's flagship ocean liner arrived in Brooklyn Cruise terminal after taking part in a transatlantic ocean race. Finishing first Queen Mary 2 has triumphed in the regatta after sailing 5,837 kilometers. Her opponents were 4 racing teams with trimarans: Thomas Coville with the trimaran "Sodebo, François Gabart with the trimaran "Macif", Yann Guichard with the trimaran "Spindrift 2", Yves Le Blevec with the trimaran "Actual".
Aldo these racing boats are capable of reaching an impressive speed of 38 knots compared to Queen Mary 2 maximum speed of 30 knots, the ocean liner came first to the finish line.
The race which commemorates 100 years of American troops landing in France in WWI, started from the French port of Saint Nazaire on June 25, with the final destination New York City.
Below is an impressive video of Queen Marry victorious entry to the New York harbor.