Red Bull Cliff Diver hired by Royal Caribbean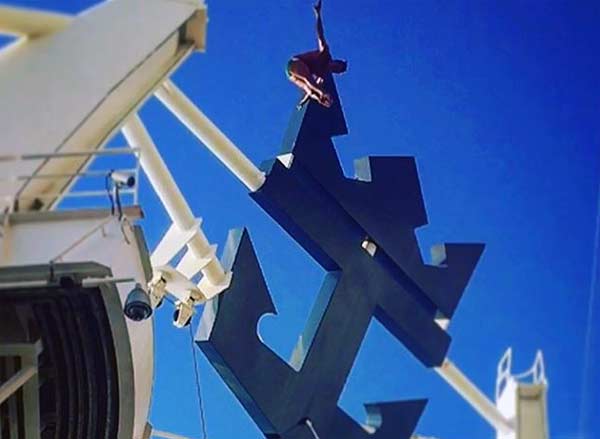 Jucelino Junior is a 33-year-old Brazilian high diving athlete who is competing in the Red Bull Cliff Diving Championship. After first making his cliff diving debut in 2009 he become permanent diver in the 2015 Red Bull Cliff Diving World Series. Today he is also part of the Royal Caribbean crew performing on Allure of the Seas as a high diver.  Jucelino monthly salary is $6400 for performing two 45-minute daily shows which take place on a 17-meter-high platform. The athlete resides in a luxurious stateroom as if he is a passenger on the ship. 
To pass the time inside the ship there are no shortage of options for Jucelino. There are almost 20 decks, 25 restaurants with different types of food, including Japanese, Italian and traditional American burgers, bars, casino, virtual simulators, ten whirlpools, swimming pools and water park, 3D cinema, shopping, Broadway musical, gym, space for practice of race, basketball court with professional dimensions, not counting on the most radical activities: zip line, climbing with 13 meters of height and skating rink. 
Jucelino has also other privileges to leave the ship for competitions, but when this does not happen, seven days a week, four he passes in different countries and the other three sailing.
photos; Instagram Jucelino Junior