Six More Coronavirus Cases Including Five Crew Members on Diamond Princess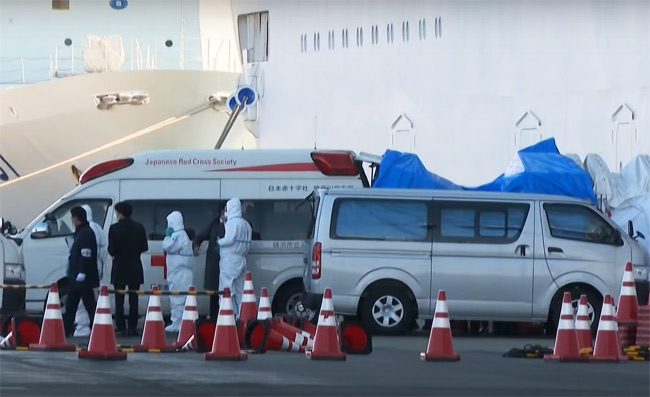 Six new cases of coronavirus were confirmed today by Japan's Ministry of Health, Labor and Welfare aboard the cruise ship Diamond Princess that's quarantined in Yokohama, reports Japan TBS news channel. That brings the total of passengers and crew who have been infected with the virus to 70 including the first passenger infected with the virus who exited in Hong Kong.
According to TBS news, the latest people infected by the virus are five crew members and one US female passenger in her seventies. The crew who tested positive are four Filipino Nationals (men and women) in their twenties and forties, and one Ukraine National (man) in his twenties. Our source reports that two crew members from the Bar department (Filipino and Ukrainian) tested positive, and the other three Filipino crew members are from the Restaurant department.
Following the latest developments, several Japanese News outlets reported about the newly infected individuals including Asahi Shimbun and News 24 reporting that five of the patients were hospitalized at a medical facility in Tokyo, while the sixth person is still on board and will be transported as soon as possible.
Additionally, over the past two days, ten passengers disembarked in need of medical attention other than the coronavirus.
"Our guests and crew on-board Diamond Princess are the focus of our entire global organization right now and all of our hearts are with each of them," said Jan Swartz, Princess Cruises president. "In this unprecedented situation, the Japanese Ministry of Health authorities are working with us collaboratively on additional enhancements, approving new procedures as we adapt our process to the unique challenges of this situation."
In a video announcement, Jan Swartz said Princess Cruises shifted additional resources to be physically in Tokyo and Yokohama and the company is continuing the close cooperation with the Japanese Government, in this dynamic and unprecedented situation.
The cruise ship Diamond Princess arrived again on February 9, at Port of Yokohama after sailing at sea to perform marine operations and produce fresh water supplies.