A True Hero – Star Princess Crew Member Saves Guest From Drowning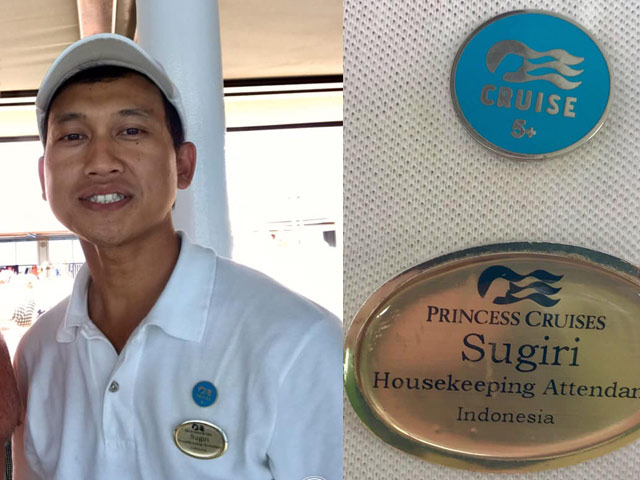 A kind-hearted crew member has been named a hero for saving an elderly passenger from drowning onboard the cruise ship Star Princess while the vessel was sailing to Hilo on 4th of April. The Indonesian Housekeeping Attendant Sugiri, was at the right place at the right time when elderly Italian gentlemen started drowning in the ship's main pool after having a suspected heart attack symptoms. This young crew member didn't think twice about going into the water to pull out the passenger to safety before the ship's medical teams have arrived. His heroic act was recognized by many passengers sailing on Star Princess saying that his quick response helped save the passenger's life.
Richard Dreyer, passenger onboard Star Princess has posted the following message on the social media:
"On my recent cruise on Star Princess 30th March - 27th April around Hawaii & Polynesian islands this deck attendant Sugiri from Indonesia dived in the pool & played a major part in saving the life of an elderly passenger who had a suspected heart attack whilst swimming.
This fine young man destroyed his mobile phone while saving the passengers life. In recognition, the crew members replaced his phone but he missed calling his family for a few days. 
I ask Princess Cruises to recognize this young unassuming man's heroic deed? You have a real life hero in your midst."
No doubt Sugiri is a true hero and he needs to be recognized by Princess Cruises for his unselfish act.
"Sugiri was the 1st person to react when the elderly Italian gentlemen was obviously in big trouble, he managed to get the person out of the main pool with the aid of a guest, then the gentlemen was given CPR off I'm guessing a passenger with1st aid experience till the medical staff got there. They then carried on with CPR & gave him oxygen. To be honest it looked pretty bad & I'm sure they brought him back to life.
Captain Tuvo ( best captain I've known ) then announced the next day that the passenger had left the ship in an ambulance in a stable condition. Captain Tuvo  & Fernando the cruise director had Sugiri on star Princess tv a couple of days later where they announced the crew had bought him a new phone to replace the one he had broke. 
Sugiri got many pats on the back from his crew members that day & I took it upon myself to congratulate him personally & have to say what a fine unassuming young man he is. 
I just thought that his speed of thought & quick reactions led to a chain of events which saved that gentlemen's life. Without Sugiri I'm certain that guy would not be here this day. I believe that not just his crew members should give him a pat on the back so I took it upon myself to make sure the powers that be at Princess should hear about this." says Richard Dreyer.