NCLH Announces Restart of Additional Cruise Ships Across Its Three Brands
Norwegian Cruise Line Holdings announced today the next phase of its planned restart of cruising across its three cruise lines. NCL will resume cruise operations on eight additional ships by the beginning Fall 2021, Oceania Cruises with three, and Regent Seven Seas Cruises will deploy all five ships back to service by February 2022. All initial cruises will operate with fully vaccinated crew and in addition to the Company's multi-layered SailSAFE™ health and safety program.
"Our Great Cruise Comeback continues to build momentum with today's announcement of the return of fifteen additional ships across our three brands," said Frank Del Rio, president and chief executive officer of Norwegian Cruise Line Holdings Ltd. "We continue to see incredible pent-up demand for future cruise vacations and as regions across the globe continue to reopen for travel and tourism, we are excited to get back to what we do best and deliver exceptional vacation experiences for our guests to once again explore the world."
Norwegian Cruise Line restart plan
NCL has announced further details on its phased resumption of cruising for additional ships. Earlier this week the cruise line announced plan for a return to cruising in in Alaska begining August 7, 2021 contingent on CDC authorization. Newly announced expected redeployment plans include the following NCL ships:
- Norwegian Joy will cruise from Miami beginning October 19, 2021 with five to 11-day Caribbean voyages.
- Norwegian Breakaway will cruise seven-day itineraries to Bermuda from New York beginning October 24, 2021.
- Pride of America will offer seven-day Hawaii interisland voyages from Honolulu beginning November 6, 2021.
- Norwegian Bliss will cruise from Los Angeles for seven-day Mexican Riviera voyages beginning November 7, 2021.
- Norwegian Encore will offer seven-night itineraries from Miami to the Caribbean beginning November 14, 2021.
- Norwegian Escape will cruise seven-day itineraries to the Caribbean from Orlando (Port Canaveral), Florida beginning November 20, 2021.
- Norwegian Pearl will sail from Miami offering Panama Canal, Bahamas and Caribbean cruises beginning December 23, 2021.
- Norwegian Jewel will offer Panama Canal cruises from Panama City and New York beginning January 20, 2022.
- Norwegian Sun will sail a five-day Japan itinerary from Hong Kong beginning January 28, 2022, before sailing a variety of 11-day cruises from Hong Kong, Singapore and Bangkok.
- Norwegian Spirit will cruise 12-day Australia and New Zealand voyages from Sydney, and Auckland, New Zealand beginning February 9, 2022.
Due to the previously disclosed lead time needed to relaunch a vessel and in order to maximize the short Alaska cruise season, the cruise line has made the decision to transfer crew from Norwegian Joy to Alaska and has canceled itineraries aboard Norwegian Joy from Montego Bay, Jamaica from August 7 through October 9, 2021. In addition, certain sailings outside of these newly announced voyages have been canceled. Impacted guests on voyages that will not operate will be notified accordingly.
Oceania Cruises restart plan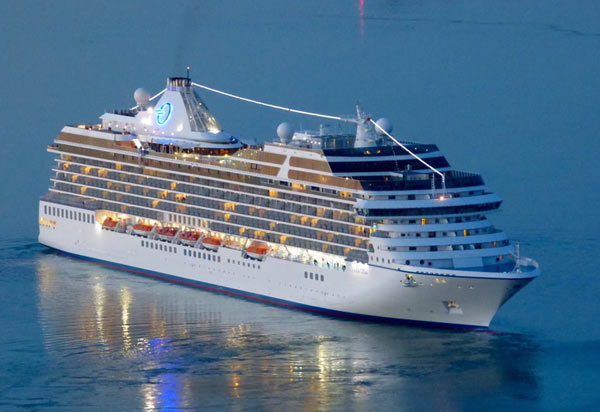 Oceania Cruises has now announced return to cruising plans for four of its six vessels fleet. 
Guests on Oceania Cruises will experience a number of OceaniaNEXT enhancements from the first sailing on board Marina when the line resumes operations.
Riviera will resume its previously published cruises from Istanbul beginning on October 18, 2021 and sail a series of Mediterranean voyages prior to beginning a winter 2021-2022 series of Caribbean voyages from Miami.
Insignia will resume sailing with the December 21, 2021 Panama Canal voyage from Miami prior to embarking on a sold-out 180-day Around The World cruise from Los Angeles to New York. 
Sirena will commence sailings starting with the January 22, 2022 Caribbean voyage from Miami to Panama City, Panama.
In conjunction with today's announcement, the cruise line has canceled all sailings up to each ships' respective restart date. Guests with impacted bookings will be contacted directly or via their Travel Advisor.
Regent Seven Seas Cruises restart plan
With Seven Seas Splendor already announced to return in September, Regent Seven Seas Cruises announced its resumption of sailing plan for the rest of The World's Most Luxurious Fleet, which will see all five ships back exploring the oceans by February 2022.
Seven Seas Explorer will welcome back guests on October 16, 2021 sailing from Venice, Italy. She will complete two published Mediterranean voyages before crossing the Atlantic to Miami, Florida and, from November 15, 2021, sail a further two published sailings in the Caribbean. The ship then begins a newly created winter Caribbean season featuring eight new sailings, starting December 20, 2021 with a 14-night Southern Caribbean cruise.
Seven Seas Mariner will return to sailing on a published December 18, 2021 itinerary, cruising from Miami, Florida to San Francisco, California where she will begin an epic World Cruise on January 5, 2022.
Seven Seas Navigator resumption will begin January 6, 2022 from Miami, Florida with her published 2022 Southern Caribbean winter sailings, which include multiple round-trip Barbados voyages.
Seven Seas Voyager returns with five new Mediterranean voyages, the first from Barcelona, Spain on February 15, 2022, before commencing her published 2022 European summer season itineraries exploring the Mediterranean and Northern Europe from April 15, 2022.
The Company continues to expect a phased-in approach to reintroducing additional vessels while taking into account the public health environment, global travel restrictions, regulatory restrictions and port availability, among other considerations. All voyages will operate with the Company's comprehensive SailSAFE™ health and safety protocols which were developed with leading public health and scientific experts including the Healthy Sail Panel and the SailSAFE Global Health and Wellness Council. The Company's SailSAFE protocols will be continuously evaluated and modified with the latest science and technology.